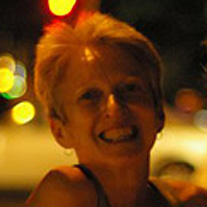 My sister died last night. I can't imagine life without her on this earth. Teresa my buddy, my friend, my teacher…
She found out sometime in May that she had terminal liver cancer. For the record, that means you starve and swell up until something breaks. Last night it did, apparently while I was lying in the bathtub worrying about my own stupid future, the work I haven't done, the home we don't have, and half a million other things. Her husband went upstairs to check on her at 1:00 a.m., and she was already cold. That's the way this happens in the real world.
Teresa was an artist. A life artist, I should say, because she lived her life like no other, doing everything her own way, including dying. She never spent a single day in the hospital and didn't want to—no medical-industrial complex slavery for her, no sir! Short of breath and hemorrhaging, she slipped away in her sleep, all alone and without making a fuss. That's my sister, as brave and compassionate as anyone who ever lived.
I can't believe she's gone. I just can't.