NEW SOFTWARE SKILLS AND MY IPHONE 14 PRO MAX have helped me create hundreds of new images. The one above titled "Frozen in Time" is part of the FLAMING GOLDEN JESUS collection at OpenSea, for example. If that matters to you, fine. If physical art's your thing, I'm setting up a special gallery at SmugMug in case anyone wants to buy a print of any photographs I post from here on out. All I want now is just for you to see these! The photo of Kathy napping 13 years ago above is a perfect one to start with. I miss her more than ever and discovering it was a shock. Before I fixed it, it was almost entirely black. I almost tossed it! Can you imagine? The NFT description reads:
"I see you there asleep right now as if alive…

The original image from my archives was so badly underexposed I couldn't make out anything. Before I deleted it, I tried processing with the latest Photoshop and was completely stunned.

Ranchos de Taos, NM, August 14, 2009. 4188 x 2848, 300 ppi.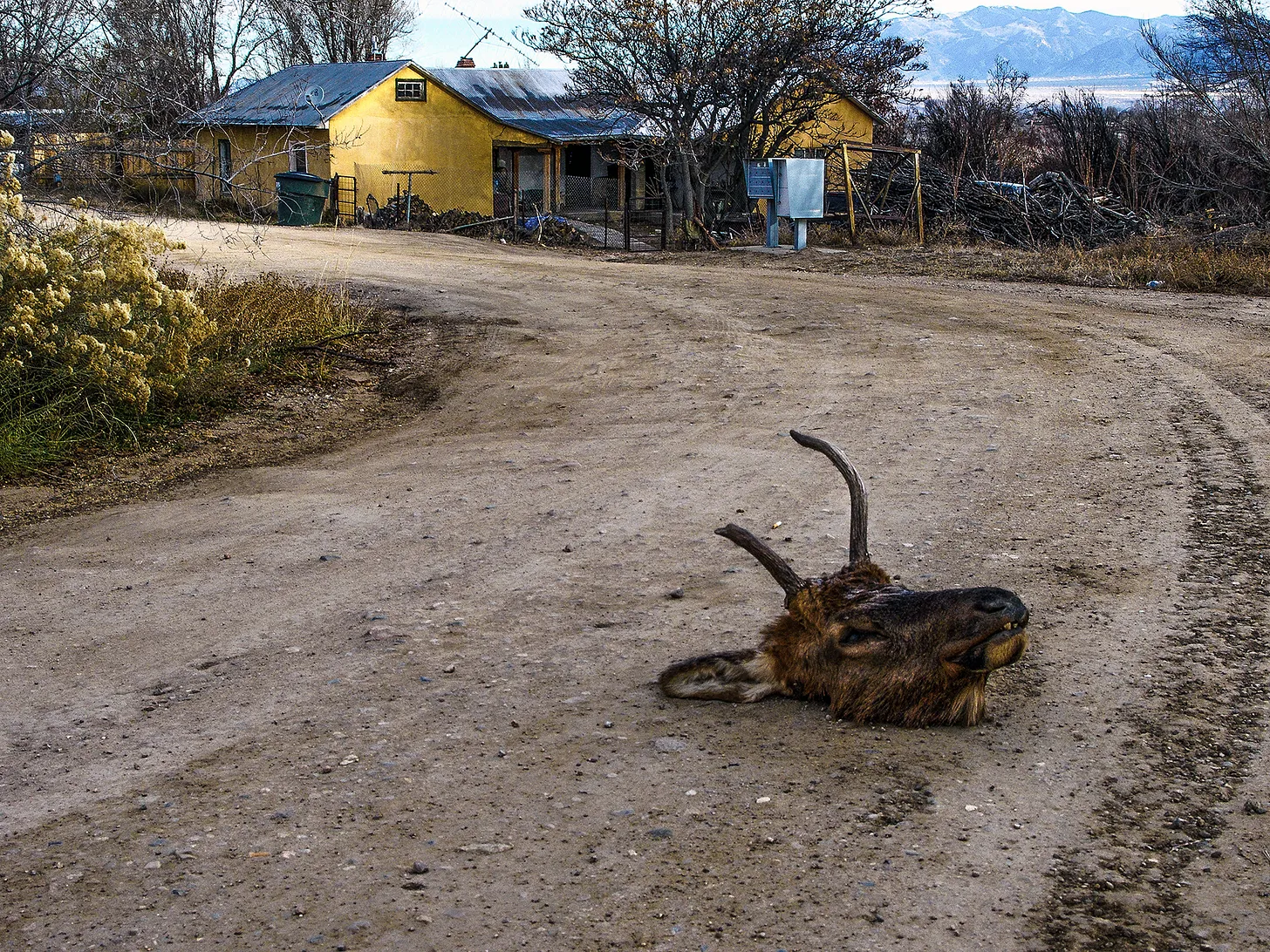 "Morning Elk," another one from my archives that you may have seen before but much improved. From now on, whenever any photos here are also NFTs, there'll be a link like this, and I'll also use the description from the listing page like you see below. For now I only want to share.
My wife came home from a Curves workout around 7:00 a.m. and said, "There's something in the road…" There sure was.

This is very close to where we lived. I grabbed my camera and went to take a look. For so many reasons this says "Taos" to me loud and clear. I don't know what it is about animal heads in northern NM. We once looked at a house for rent that had a fresh deer head securely wired inside a tree by the front door. Another time I found a dog's head in a juniper on the nearby mesa—again, wired in place—and not long after that I found a steer skull with magnificent horns upside down in the branches of a piñon tree. My neighbor just around the corner from this shot currently (2022) has two elk skulls on posts in each corner of the yard and also some kind of small black birds (dead) stapled by the skulls!

Llano Quemado, Ranchos de Taos, NM. November 20, 2013. 4000 x 3000, 300 ppi.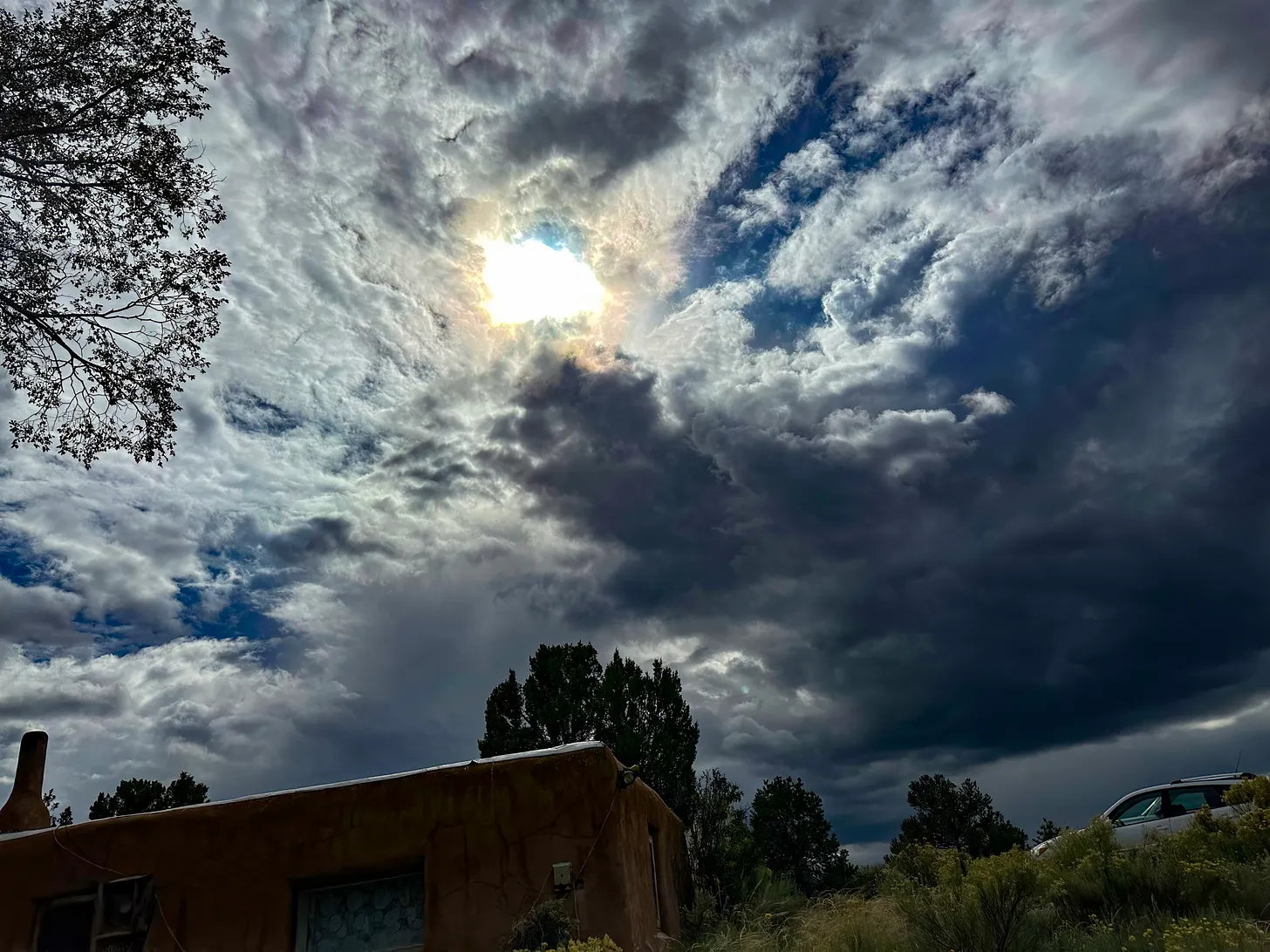 I'm very pleased with this one. "New Mexico Soul" is what it's called because that's what it shows. I live beside the vacant house shown here which keeps things private, though I'd like to find another place to live. There is nothing like New Mexico. It just feels better than anywhere I've been. After my sister died in Austin, I drove home from the memorial get-together on a different route to lay my eyes on Palo Duro Canyon, second largest in the United States. Everyone should see it. Amarillo is a different matter, sadly. I spent the night there in a Quality Inn that was anything but and left before free breakfast, so you know the boy ain't lyin'. Interstate 40 took me quickly to New Mexico. The landscape of the Texas portion of the route was chopped and broken with oil wells and ugly signs. As soon as I crossed the state line, it was like the land itself was happier… Less developed for sure. Hawks and bluebirds on the fences, much less advertising, peaceful. Starving to death from not standing in line for waffles and cold scrambled eggs in Amarillo, I hit the the New Mexico Welcome Center a few miles in to wolf down free cookies and hot coffee. Glory hallelujah I was saved.
"Man, it sure feels good to be back in New Mexico!" I told the lady at the counter.
"We get a lot of that around here…" she replied.
As I wrote in the introduction for another NFT collection, "New Mexico belongs to God. We just pass on through." In New Mexico, the sky is an enormous living presence. The clarity of the air means visitors are blessed by every detail. Quintessential New Mexico, all the way. Photographed at 7,000 feet.

Llano Quemado, Ranchos de Taos, NM. October 6, 2022. 4032 x 3024, 300 ppi.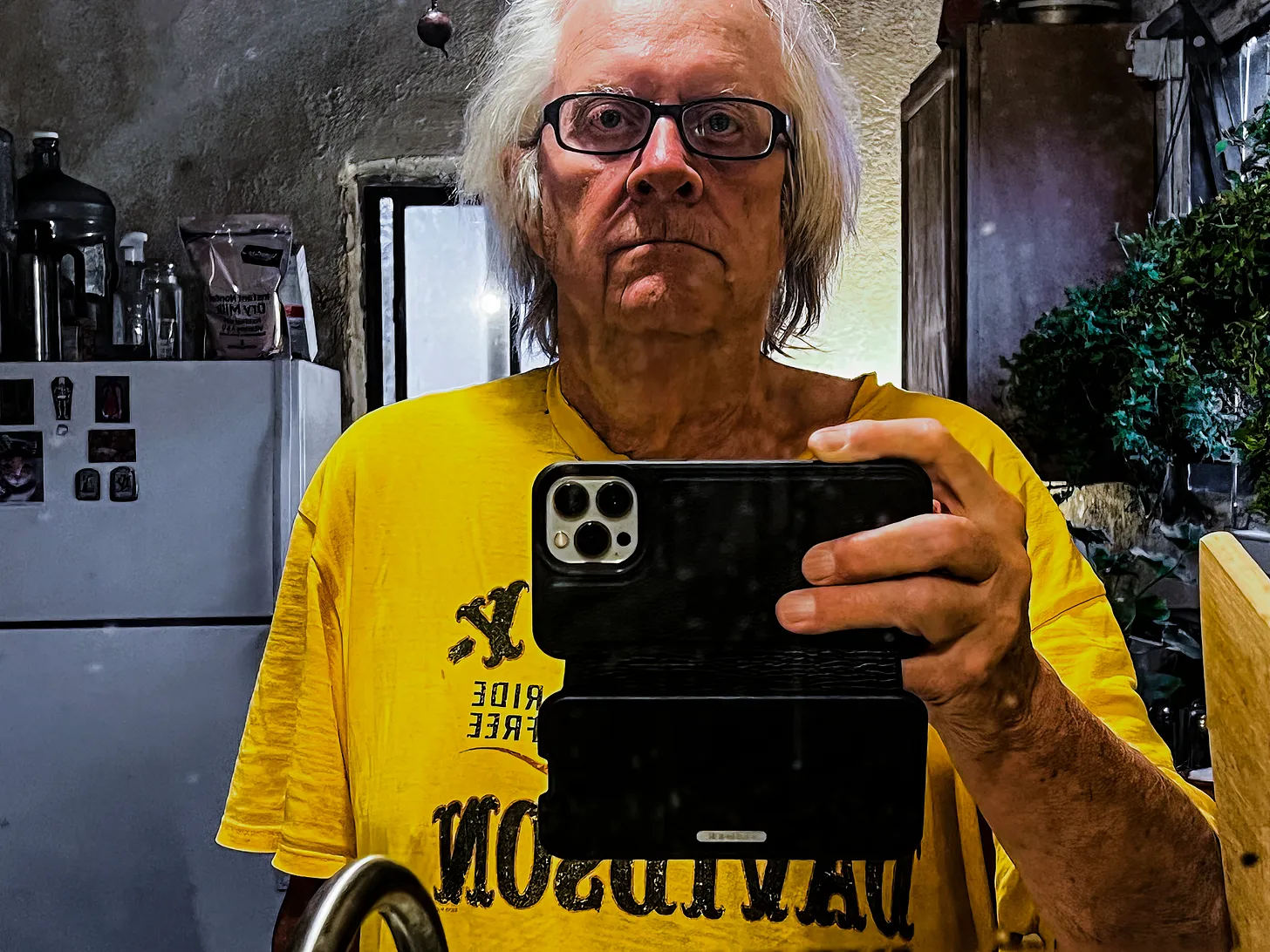 Believe it or not, "Selfie Saint" has more views than my other work at OpenSea. I like it for the color and the clarity. The picture is a reflection in an antique mirror we brought from Maryland, if you're wondering where the spots come from. I painted the frame in yellow and red long ago, never realizing those were the colors of the New Mexico state flag! Everything that happens is connected and it takes my breath away.
Still here, baby. Missing you so much.

Shot looking into a dirty mirror over the kitchen sink in the old rented adobe in Llano Quemado. "Old school" to the max. The house was built in the 1890s. The walls are 18″ thick. It's like living in a cave of mud. The last 20 years went by so fast… They always do in hindsight, don't they. I like the dignity and strength here. I'm wearing my favorite worn-to-pieces shirt from the Harley dealer in Santa Fe where I took the motorcycle training course . Never did buy a bike but I'm still licensed. The big adventure is still on.

Llano Quemado, Ranchos de Taos, NM. June18, 2022. 4032 x 3024, 300 ppi.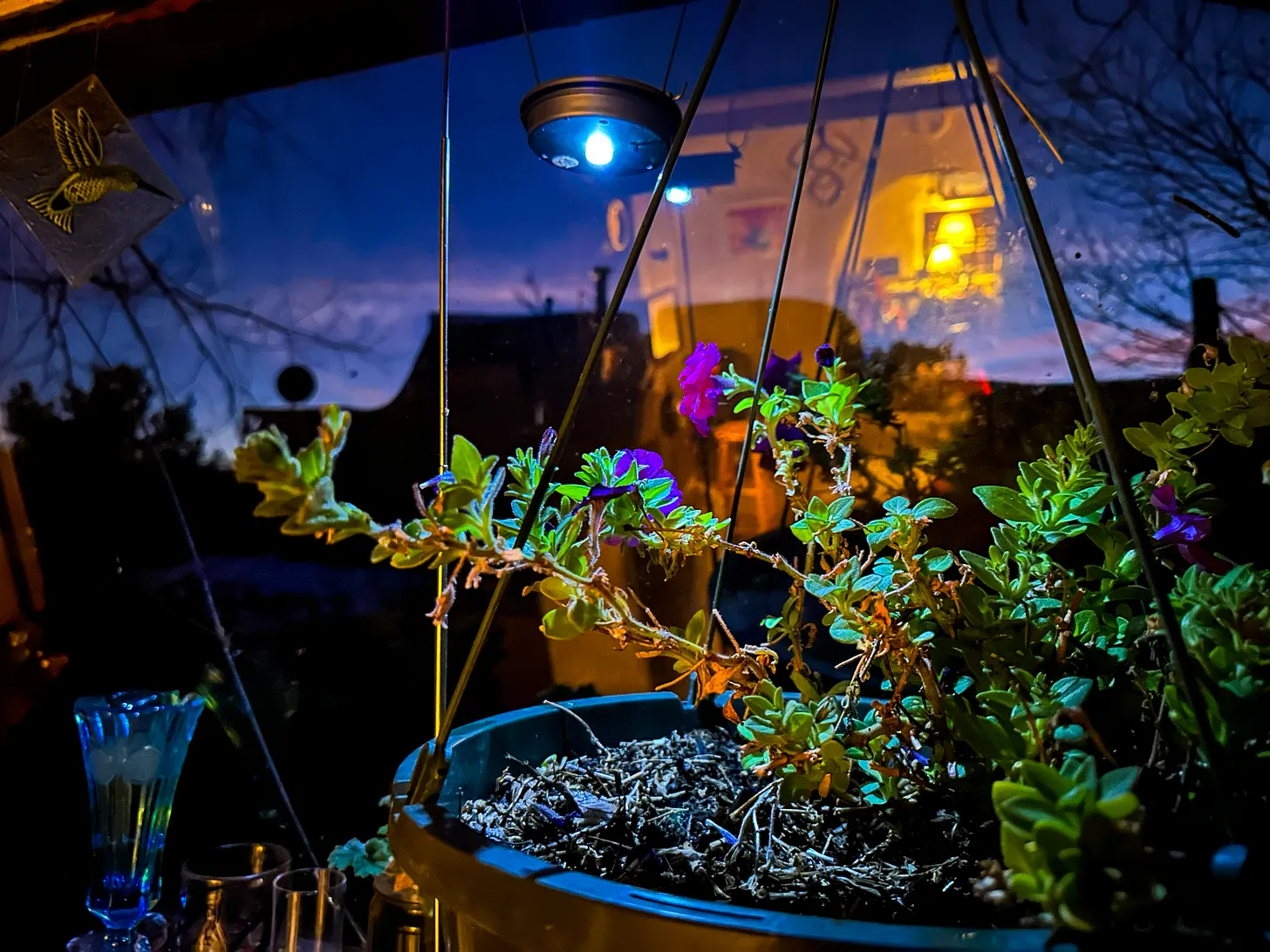 Now we're in new territory. "Saturday Night" will be an NFT, I just haven't decided where to list it. Maybe with the photo at the top. I shot this just the other night as an experiment and love the way it came out. That's a reflection of the saloon and living room behind me. The flowers are the last survivors from a hanging basket I left outside two years ago because I thought it was dead. The plant revived after I bought it inside last year (which blew my mind!) but now is running out of steam. The little light above runs off a solar cell and used to live inside a hanging fabric lantern. When the lantern fell apart, I hung the light in the kitchen window where it flickers now and then. As you can see, it decided to come on when I was ready to take the shot. No explanation for the blue light but I like it.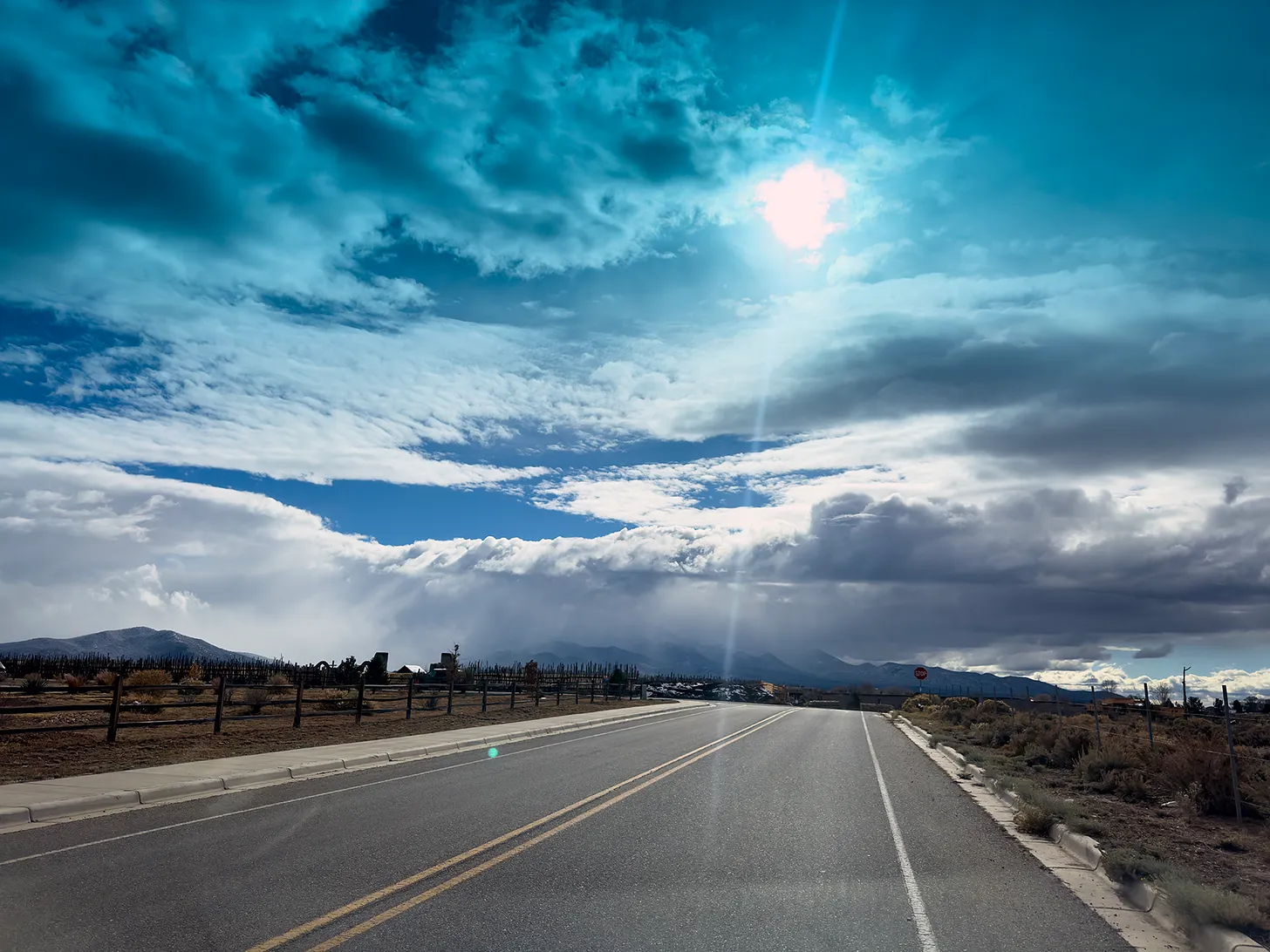 Also new and officially nameless, "Short Cut" or "Snow Over Picuris" is still in limbo like the one above. I shot this through the windshield on extended Salazar Road, an honest-to-God shortcut I take to drive to town and only recently discovered. Hardly anyone else has either. It only has two stop lights and avoids eternal repaving on the main drag with a blinking red light in heavy traffic near the courthouse, God help us all. The snow squalls in the process of spilling over Picuris Peak are just about to hit my neighborhood in this image. A 48 MP ProRAW shot originally, by the way. Blows up nicely, I could crop and zoom in closer.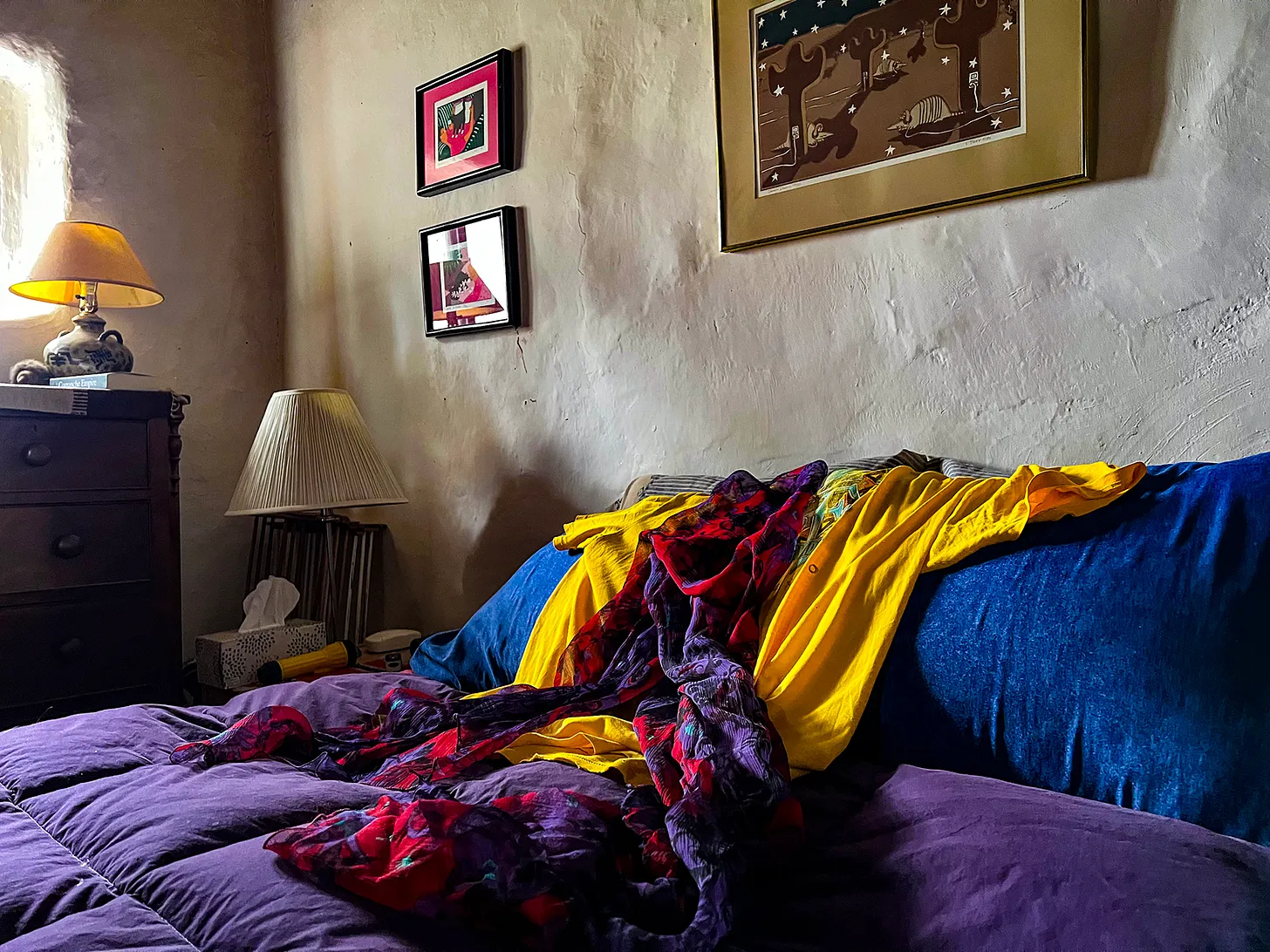 I name 'em as they come to me and what I heard was "Sacrifice." The yellow t-shirt from the Santa Fe Harley dealer where I took the motorcycle safety course and got my (unused) license is basically my pajamas. You know how nice and cool on bare skin threadbare cotton feels, I hope. This one is quite tattered and won't last long much longer. The scarf is one of Kathy's, obviously, that I pulled out of a drawer in the cherry dresser on the left her grandmother gave us years ago. We hauled it back from Keota, Iowa—the same place I buried her ashes—to Maryland in a wonderful old VW bus I used to have that we could also sleep in. The "heater" was no match for Iowa so I rigged a single-burner propane camp thing hanging from the metal dash with a coffee can for a safety shield. Kathy's retro raccoon coat still burned a little for a couple seconds. I won't say "never do this" because it really worked and saved our lives though driving around deserted Farmer City, Illinois at 7:00 a.m. on Sunday morning at 0°F to find another propane cylinder was a homey kind of hell. Be careful, that's all, and God bless old VWs.
I'll leave the interpretation of the name to you. Making the bed has been hard for me for a long time but it's getting easier. Someday I'll have a new one.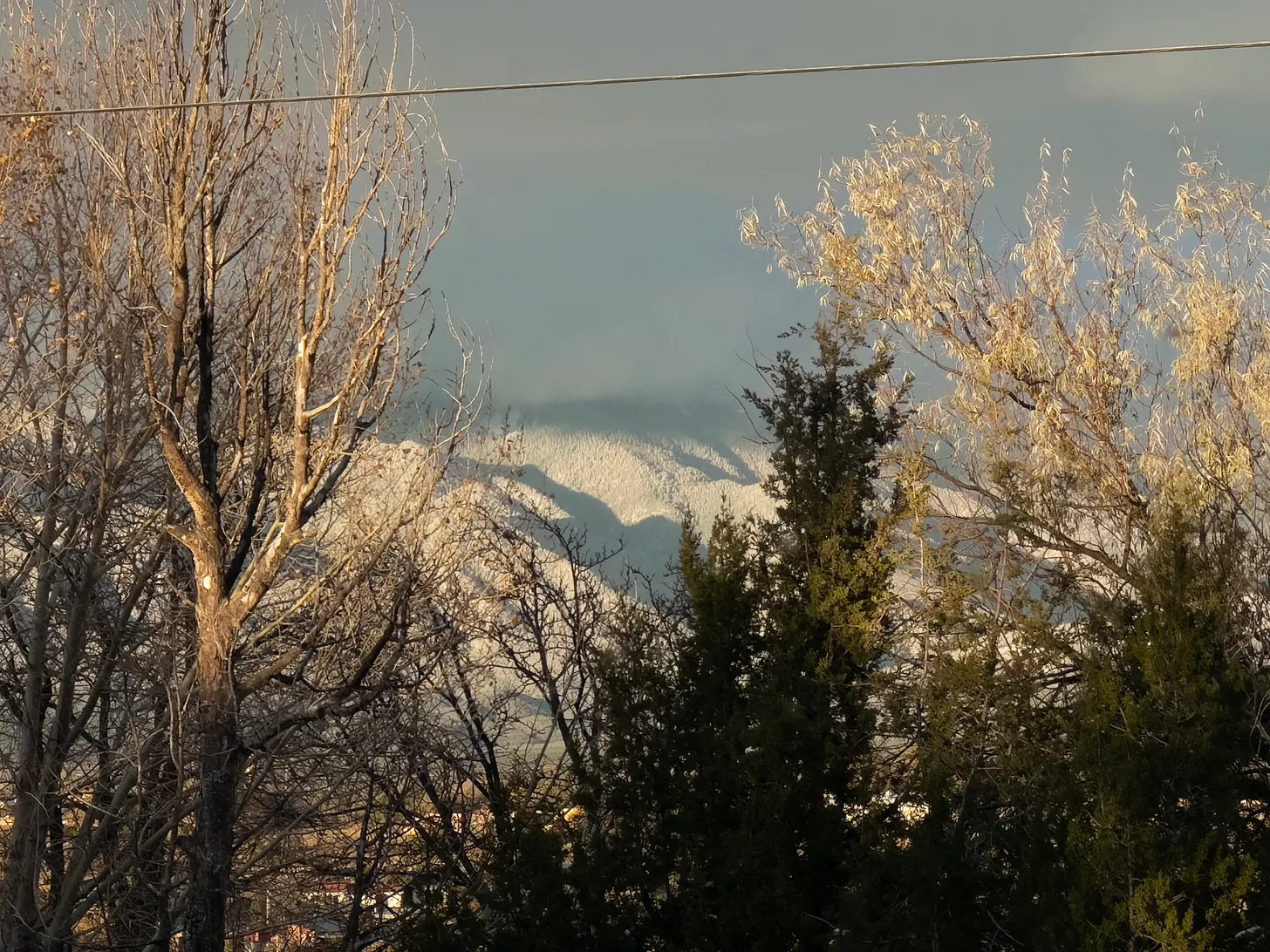 I must have a thousand shots like "Backyard Taos Mountain" but this is recent and will show up as an NFT before long. A fitting place to stop, I think. The view is through the window from the desk where I am sitting now. Yes, I am a lucky man and know it. May you have a great day or night wherever you are, and thanks for stopping by!