THE CLOTHES, THE CLOTHES… It was a beautiful day with pure white clouds in a deep blue sky and I went out and did it. The lady I trusted at the consignment shop suggested the Big Brothers Big Sisters donation bins at Super Save, but I opted for the closer Del Norte Liquors location for more privacy that morning. Good thing, too. The first thing I saw when I pulled up were two non-matching torn-up men's shoes lying in the dirt out front. Oh God. Don't stop, I told myself, then tested my resolve with the largest bag because I knew I'd be committed then. The lever squeaked in the dry cool air. The door opened wide and the bag disappeared with a terrible thump. I let go the handle and the green bin shrieked. Maybe some poor girls will love their Pendletons.
---
I'm sorry, Kathy. It still feels like a sin. But the clothes just aren't you and you told me so.
---
All of these were summer items. I'd already consigned the best of them but there were many more. For two and a half years they'd hung in the bathroom "closet" in the old adobe or rested in dresser drawers, the cedar chest, or dusty piles on the bedroom floor I couldn't face and learned to walk around. In the process of gathering them up, I set aside a few iconic items for keepsakes or to give to friends someday. I'd already taken her winter things to the storage unit to hold for early fall when I could sell the camel hair coat and all her sweaters. She had so many.1 Jeans and skirts and blouses, too, that filled the bags I loaded in the back. There was nearly a full pickup load.
I cried a little when the first bag fell. Then one by one the clothes I'd seen her wear for years went thudding into the bins. (I'd carefully folded everything into paper grocery sacks, then put those into nice clean plastic garbage bags.) Each one went more easily than the last and I knew that it was right. The goods would go to Santa Fe and Albuquerque so I wouldn't see anyone wearing her things. When I finished I felt shaken, also different, like I'd suddenly grown wings. If I could do this anything was possible. The universe had shifted.
There was still much more to do. When I got home I transferred my clothes from what I call the "Methodist" dresser2 with the peeling veneer from West Virginia into the gorgeous cherry one3 we picked up from her grandmother in Keota years ago. Gram also gave us artifacts from the garden shed and a collection of high-fashion vintage hats from Kathy's great-aunt Emily. All this went home to Maryland with us in my green Volkswagen bus. I couldn't tell you which year that was, but as I worked I remembered how good it felt to be driving home in a van full of love and loot, the headers thrumming up and down the hills on clean Midwestern interstates, how young and ferocious we were.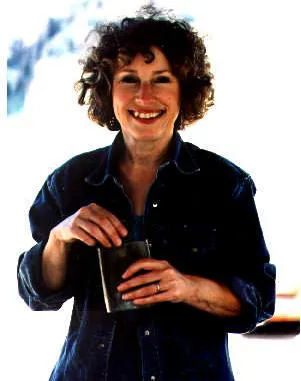 Early '80s maybe, Big Bend National Park.
The memory gave me hope. I wanted to start all over in the bedroom so I could breathe and knew that she'd approve. Moving fast, I gathered up her jewelry, the Japanese music box, the Bavarian porcelain dresser set, the tiny perfume bottles we carried home from Venice, the postcard she sent me from Scotland, the scarves, her handkerchiefs, and more for sorting later. Replacing the brown wool Chimayó weaving on top of the dresser with a piece from an artist we'd known in Maryland4 was perfect. On that I centered my own burial urn4—empty of course—next to my bolo ties and a mysterious necklace I'd found in a drawer. The antique shotguns with my .22 rifles6 wanted to go in the space by the wall. The scary bronze cat skull sculpture ended up on the other West Virginia dresser (hers) for being so cool and utterly me. The piles were gone. I had a room. And every night since I've slept straight through.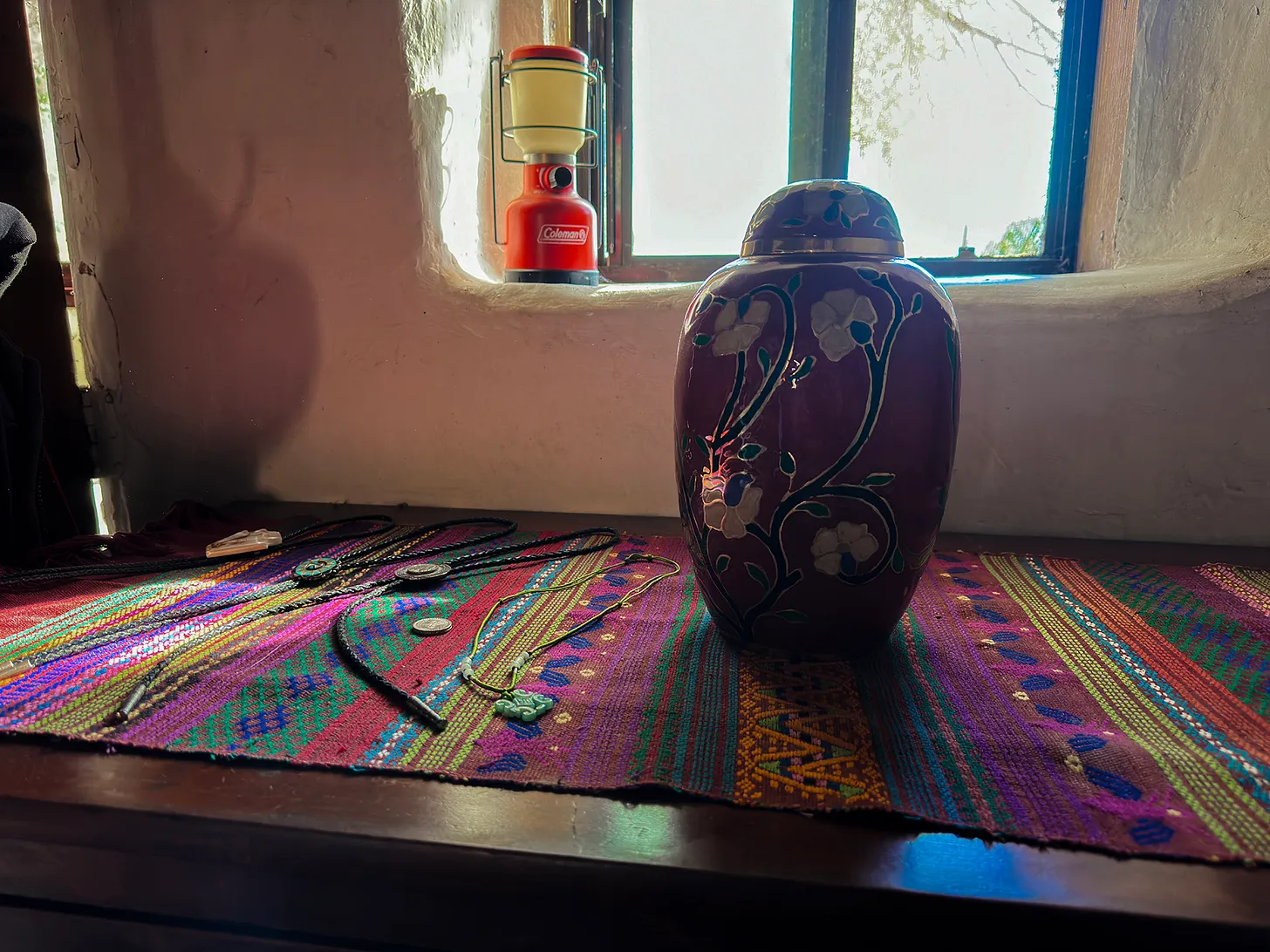 Hope it keeps me honest, too.