THE SHOES CAME FIRST, before the Colorado thing.
They'd been staring at me for over a year. There were piles of Kathy clothing in the bedroom I'd been sorting to help her manage after the 21-day stroke "rehab" that flew right past her. My baby never had a chance. After she died the piles turned into background lumps but oh those shoes. With a double Pisces, there will be shoes. Is anything we wear more adapted to our bodies than a pair of shoes? They bear our weight. Our bones and muscles make an imprint, stretch the sides, and cause the soles to wear a certain way. I'd lined them up a while ago to see just what was there and then abandoned them. Now they were dusty, full of cobwebs, scary. Some were caked with mud awaiting happy husband shoe revival like an awful dream. I thought about the ancients with their combs and mummy cats. There in case she needed them I guess, or bait.
But I knew she wouldn't be coming back. Not the way it was. Not for the fleece-lined snow boots or the waterproof black leather "London boots" she'd bought forever ago to spend a week in the U.K with her niece and sister. Primo boots from a fancy store in Taos that's no longer here.
She had so many shoes. Dress shoes, performance shoes, organ shoes, running shoes, snow boots, sandals, clogs, slippers, and flats. I'd already culled the ones you'd only wear because they're yours. Most of the rest looked nearly new. It took me over a year to call the biggest place that sold donated goods to find out if they even took shoes. "Yes, we do, if they're clean and in good shape." I was disappointed, frankly, because that meant I'd have to clean them (especially the boots) but I googled how and set to work. And then I realized her DNA was in the shoes… All those years of skin on leather. Her own perfume. Suddenly I was angry to be cleaning them the way I had when she was here and now she wasn't and I thought about the way the fleece was worn down by her heel and toes and how I knew each one. The truth was, I didn't want anyone else to wear them. The whole thing was just silly. Even her pristine dress heels showed "footprints" if I squinted. Screw this.
It was the morning of the weekly garbage pickup.
I pushed them all down into the kitchen trash and tied it up.
An hour later they were gone. It still reverberates and makes me sad. Kind of brutal, but the world has many shoes. She wasn't tied to anything except her music. I have her first piano tucked away in storage. It would fit well in a ranch house like we wanted.
And then came Colorado.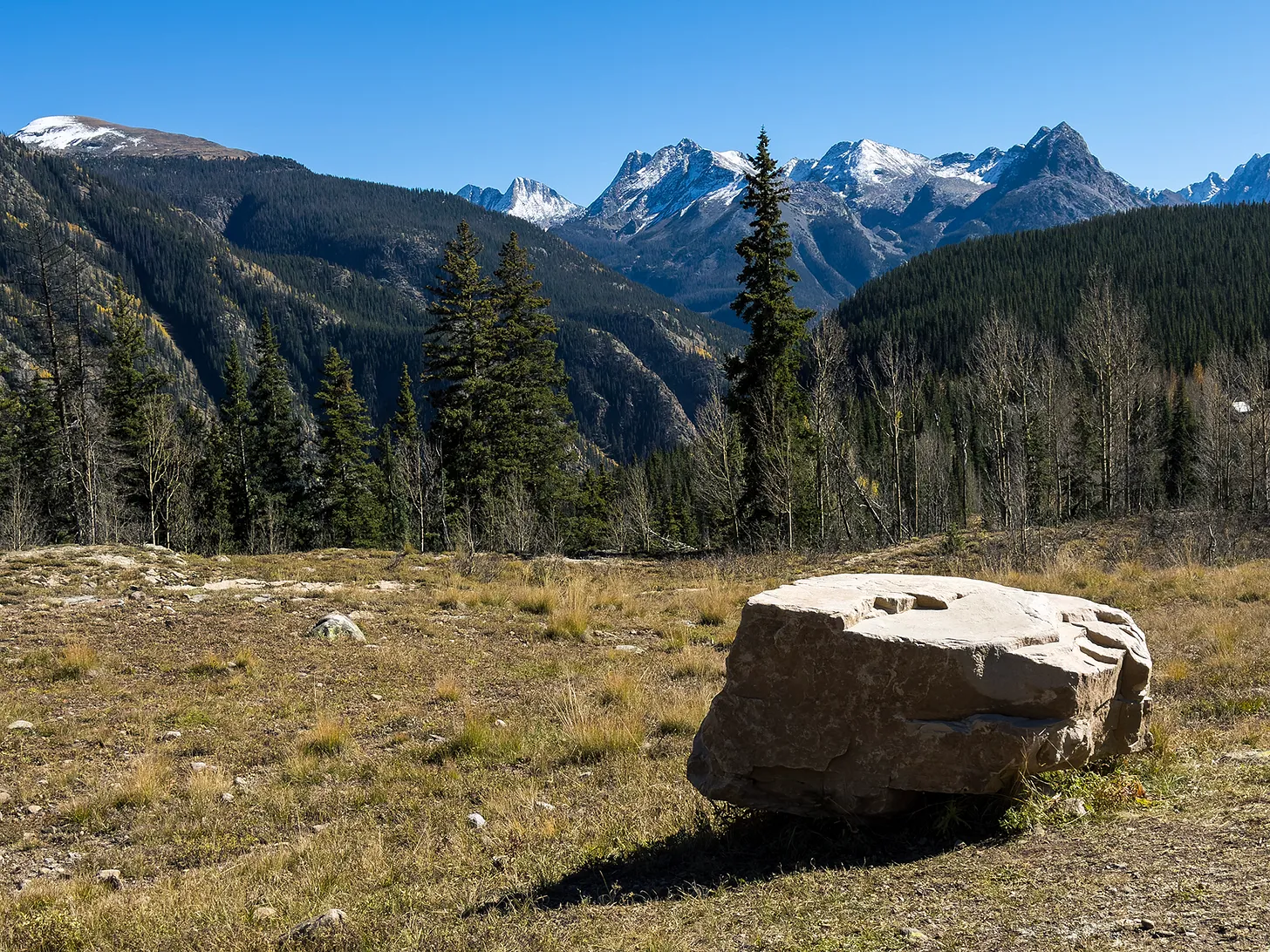 One of the first big vistas on the Million Dollar Highway north of Durango
After almost three years of COVID worries and my honey growing angel wings, I'd gotten way too good at holing up. Then a friend talked up the "Million Dollar Highway" to the point where I felt stupid that I hadn't ever gone. Not until I gave in and tried it a couple weeks ago—having thrown away the shoes—did I remember that Kathy and I had been on that route (U.S. 550) some 40 years ago! I now recall the view down Silverton's main street, lunch at a cafe in Ouray, and the night we camped outside Durango. In my mind the drive there from Pagosa Springs on U.S. 160 was a rural romp back in the '80s, not the bumper-to-bumper traffic, strip malls, gun shops, and subdivisions of today. Memories conform to prejudice, of course. But it did take me half an hour to drive through Durango at noon, 10 minutes of which I spent trying to go around the block to reach a gas pump I'd gone past while tourists clogged the crosswalks hunting lunch and squinted in the sun.
Thankfully it was beautiful heading north to Silverton and I forgave Durango. I could stop at pull-offs and take photos, step behind a tree to pee. The Million Dollar Highway lived up to its reputation and I had to watch the road to keep from falling out of sight. When I got to Silverton I walked around downtown and marveled at the quiet. The two cannabis stores I saw were closed as if the town had changed its mind, but at a third one on the outskirts the owner explained, "It's winter…" Oh.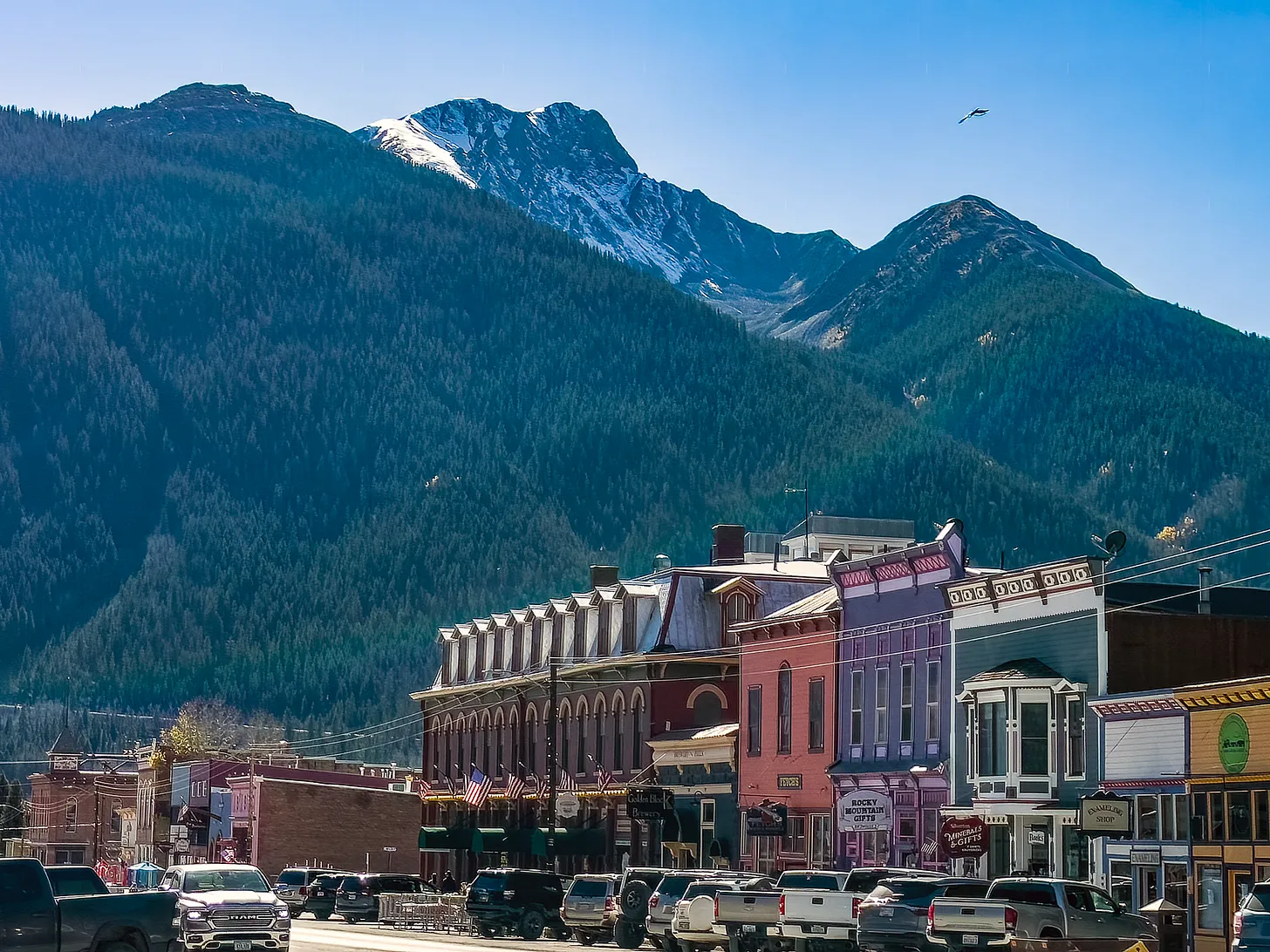 Silverton, CO. Not as claustrophobic as Ouray (second image below).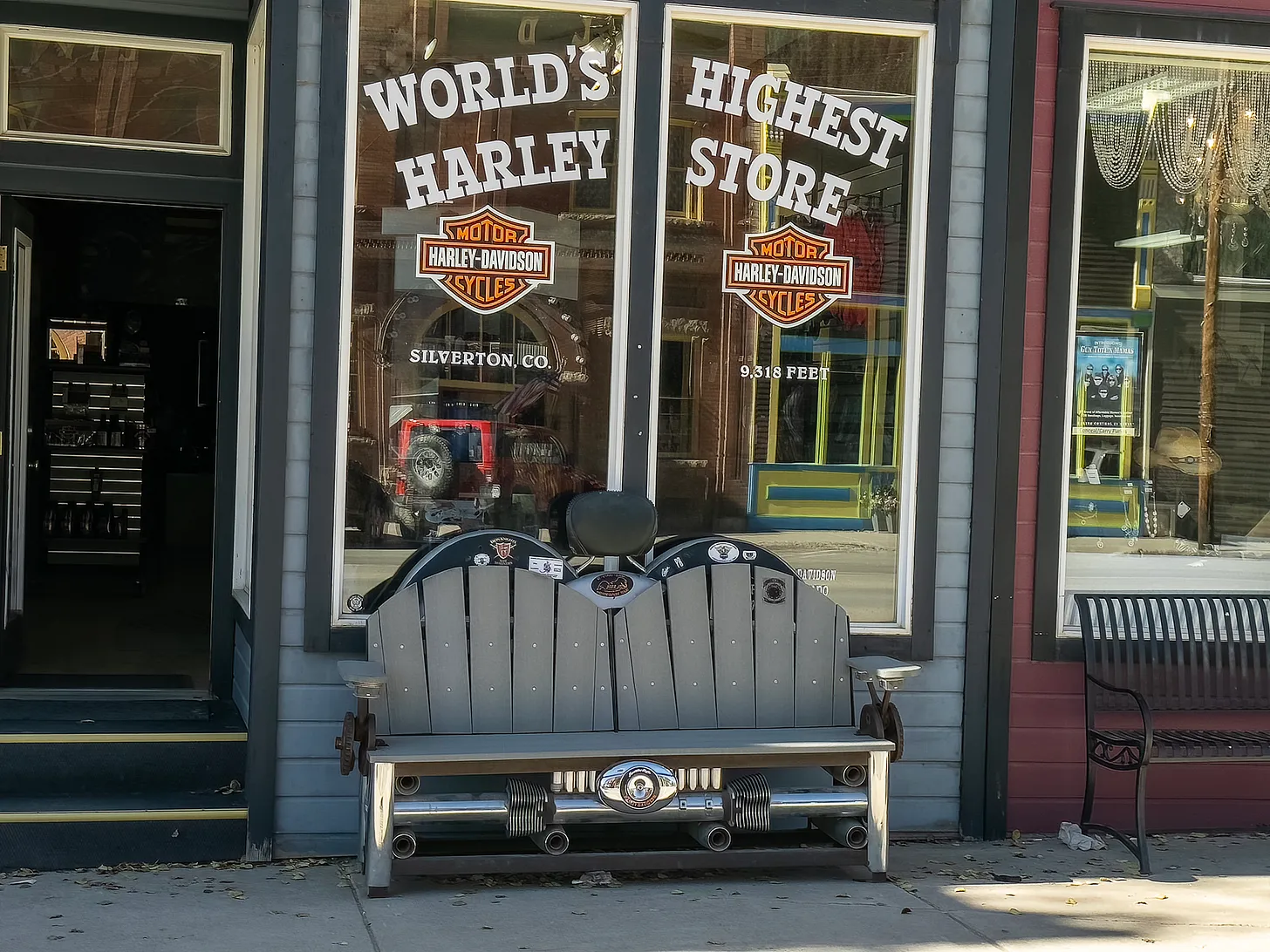 Self-explanatory. Nice bench.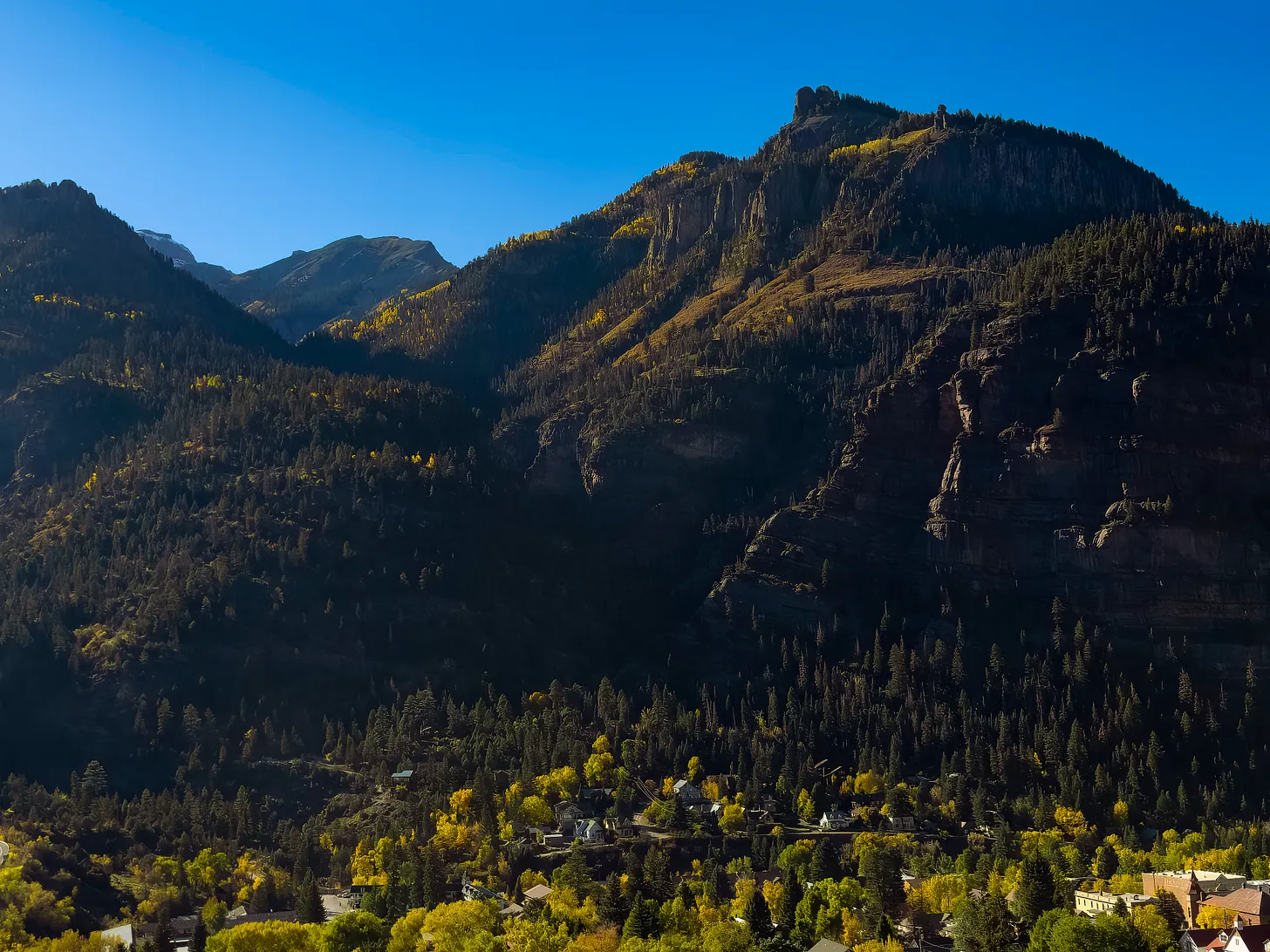 This is Ouray. Don't get confused.
[Remember, all these photos are HUGE here.]
After arranging a reservation at yet another oddball local establishment like I'd said I'd never do again, I made to Montrose by late afternoon. Driving into Montrose was like arriving at any other ruined burg with every franchise in the world and forty red lights for the strip malls. Sidewalks with no one on them stretched for miles along the parking lots. And then I found the motel on the very edge of town.
The first thing I saw when I pulled into the parking lot was the torn curtain in the window of the nearest room. It was literally hanging there in shreds. I remember standing there in shock, holding the door open to reach in and grab a couple things as I watched the sun sink closer to the horizon and the air began to cool. All I had to do was close the car door, walk inside, talk my way out of the non-refundable room fee, and keep on going. Where, I wondered. There were only three other cars in the lot. The two sandwiches in my cooler—tuna and peanut butter and jelly—were talking to me. You could just treat it like an adventure, said the voice inside my head, and eat while you go doom-scrolling if you only give up now… So of course I caved, and there was nothing else to eat or drink on the entire premises. At check-in I'd even had to sign a document that gave them all my money if I snuck a pet inside or tried to open the window. Oh sure. The window had a perfectly good screen behind it and a screw-on lock to keep it closed. I didn't have a wrench that fit but it popped off when I banged it with the screwdriver handle and I aired out all the COVID. Checked for bed bugs, slept on the top sheet, woke up early, ready to roll.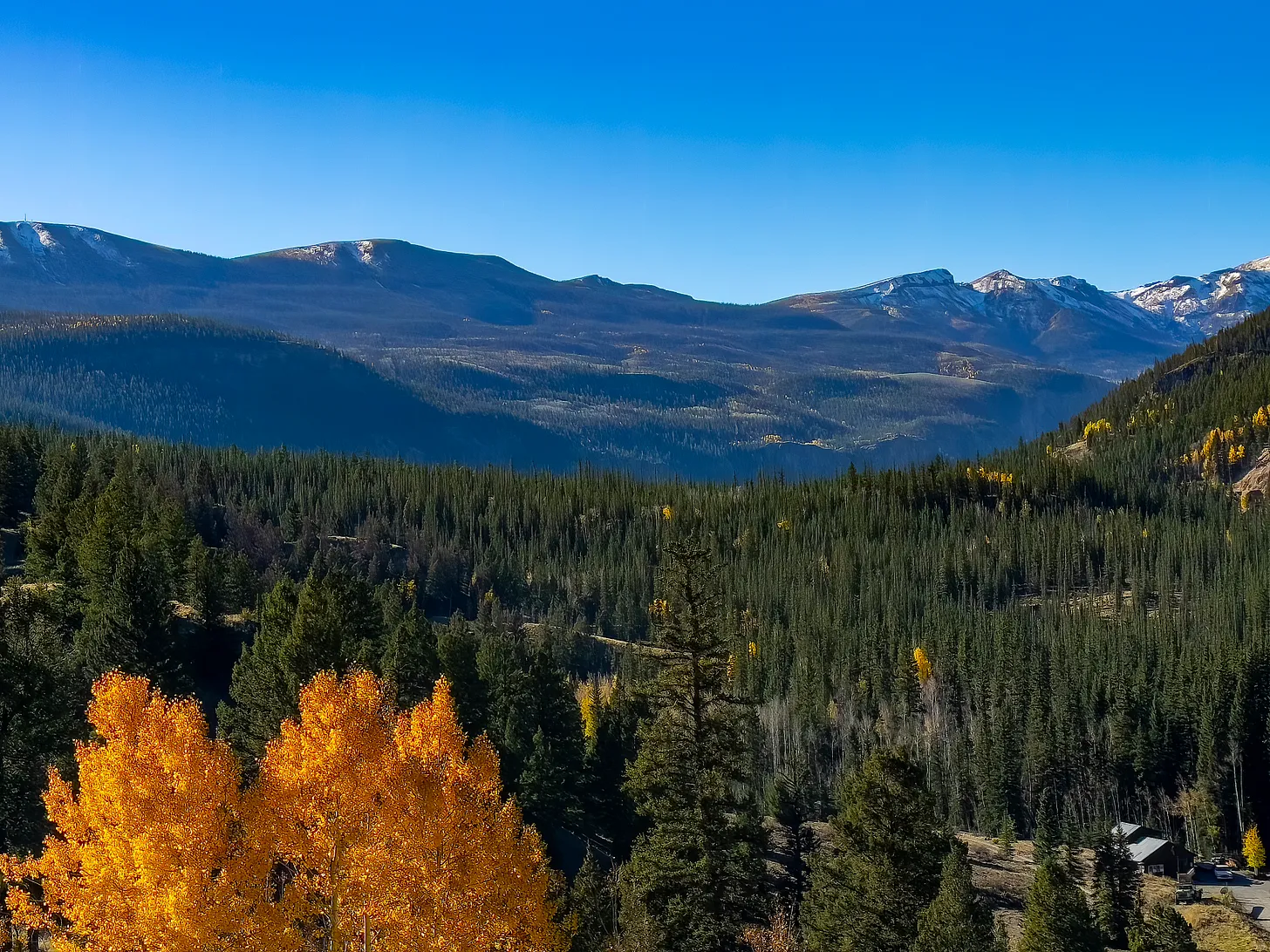 Climbing to Slumgullion Pass above Lake City. About 11,1150 ft (3400m) here.
U.S. 50 east climbed quickly after leaving the motel. I'd never seen terrain like this: huge hills, steep grades, swooping curves, and hardly any vegetation. It was like a different planet. By the time I got to the long construction zone I'd seen on Google maps I knew it was. There was only one lane with alternating streams of traffic. The road went deep into a vertical canyon with enormous cliffs and the pavement disappeared. I was creeping along in clouds of dust shot through with morning light shafts in the clefts like a scene from medieval hell. No place for my stupid one-hand iPhone trick while underway. Bulldozers and giant trucks hugged the rock face while traffic barely cleared and rattled over boulders.
At last the landscape opened up and I was driving along Blue Mesa Reservoir. All this time there'd been no towns or gas stations. I'd also been so anxious to get away from my motel, I never doubled back into Montrose to fuel up. The road I needed from U.S. 50 led to Slumgullion Pass and Creede. Aside from a smudge called Powderhorn and a dot named Lake City on the map, there was nothing else by way of civilization this side of the San Juans. I told myself, hey 35 miles per gallon, relax, turned south on CO 149 and then I really climbed… I could hardly believe it. New Mexico mountains are much older and worn down. These were monstrous, raw, intimidating. No traffic whatsoever. If anybody did live here, they'd still need gas, I reasoned, hoping Lake City would save me.
After descending into a long green valley, I drove past gorgeous ranches and came to what I'd call a village with tall trees on a winding road: "Lake City." I was driving very slowly, looking for a gas station, when I came around a curve and found a snowmobile dealership with two battered pumps standing in a patch of muddy gravel. No cars or trucks or any sign of life as I tried each pump in turn. None of my credit cards would work. A message flashed to see the cashier, so I climbed a steep set of concrete steps to reach the office door. To my amazement I saw a woman inside behind a counter. The door was unlocked. "We're closed for the winter!" she said (October 13!), but she was friendly, took my card, and let me fill my tank. After that I had to pee of course and walked back up the steps.
"Is there a restroom?"
She was now seated at a desk but smiled and pointed to another room stacked full of gear. "Around the corner," she replied.
I have never seen a cleaner one.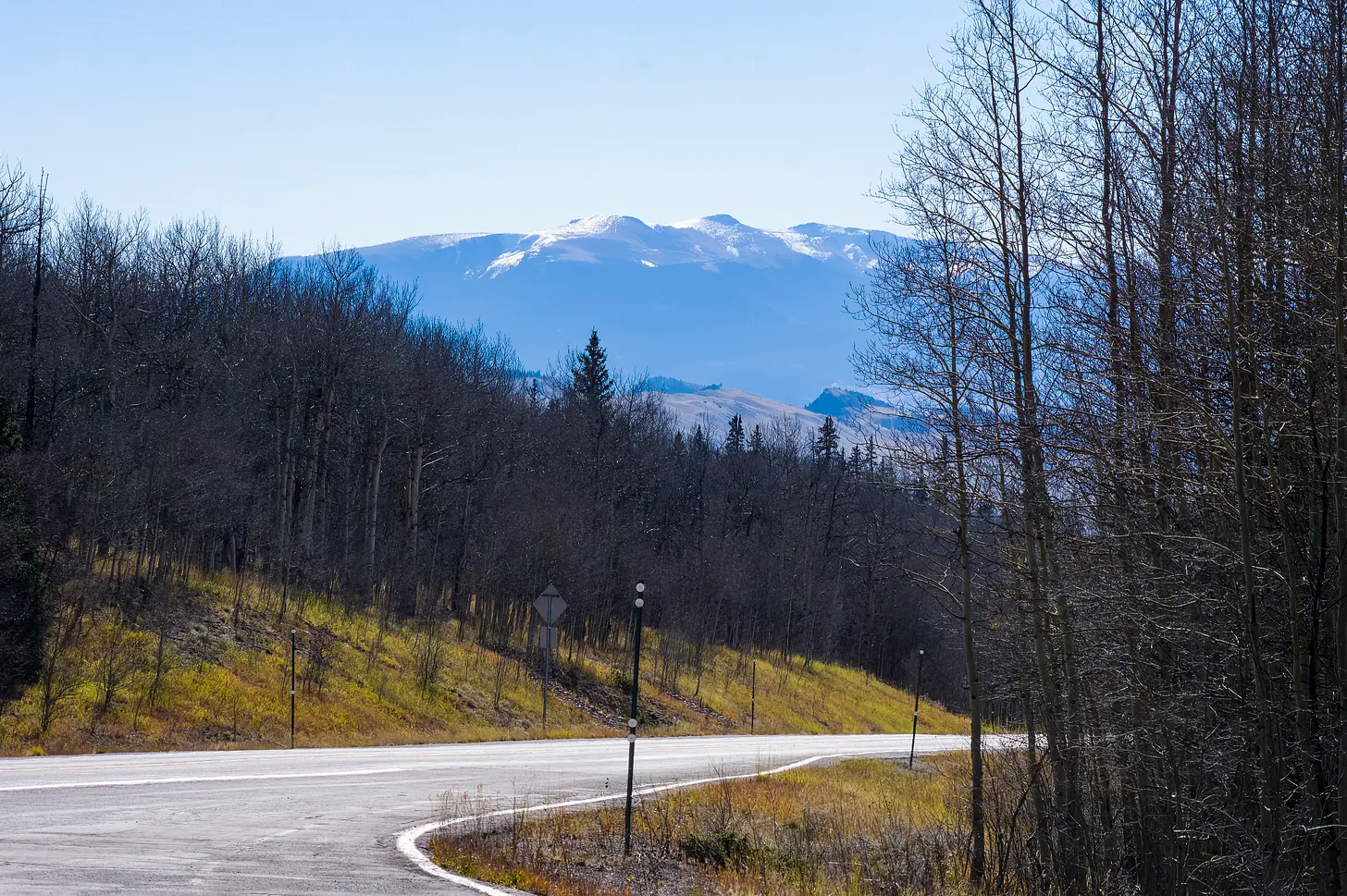 Leaving Windy Point. Slumgullion Pass is left and up, up, up.
The ascent from Lake City was simply stunning (see two photos up). After stopping at Windy Point, I climbed the rest of the way to Slumgullion Pass at 11,530 feet (3,514 m) up a nine percent grade in second gear. The sun was out, the weather cold and perfect on the empty road. The calmness of pure Nature without people, even in such a rugged spot, was glorious. I didn't want to leave but the bare trees told me that I had to.
Beyond the pass the landscape opened wide at the top of the world. From here I knew I'd go to Creede, then South Fork, Del Norte, Monte Vista, and Alamosa before heading on to Taos. What I didn't know was that I wouldn't be alone. I'd always read the Rio Grande started somewhere in these mountains but I swear I didn't realize that was just a little farther down the road.
Behold the headwaters of the Rio Grande, third longest river in America.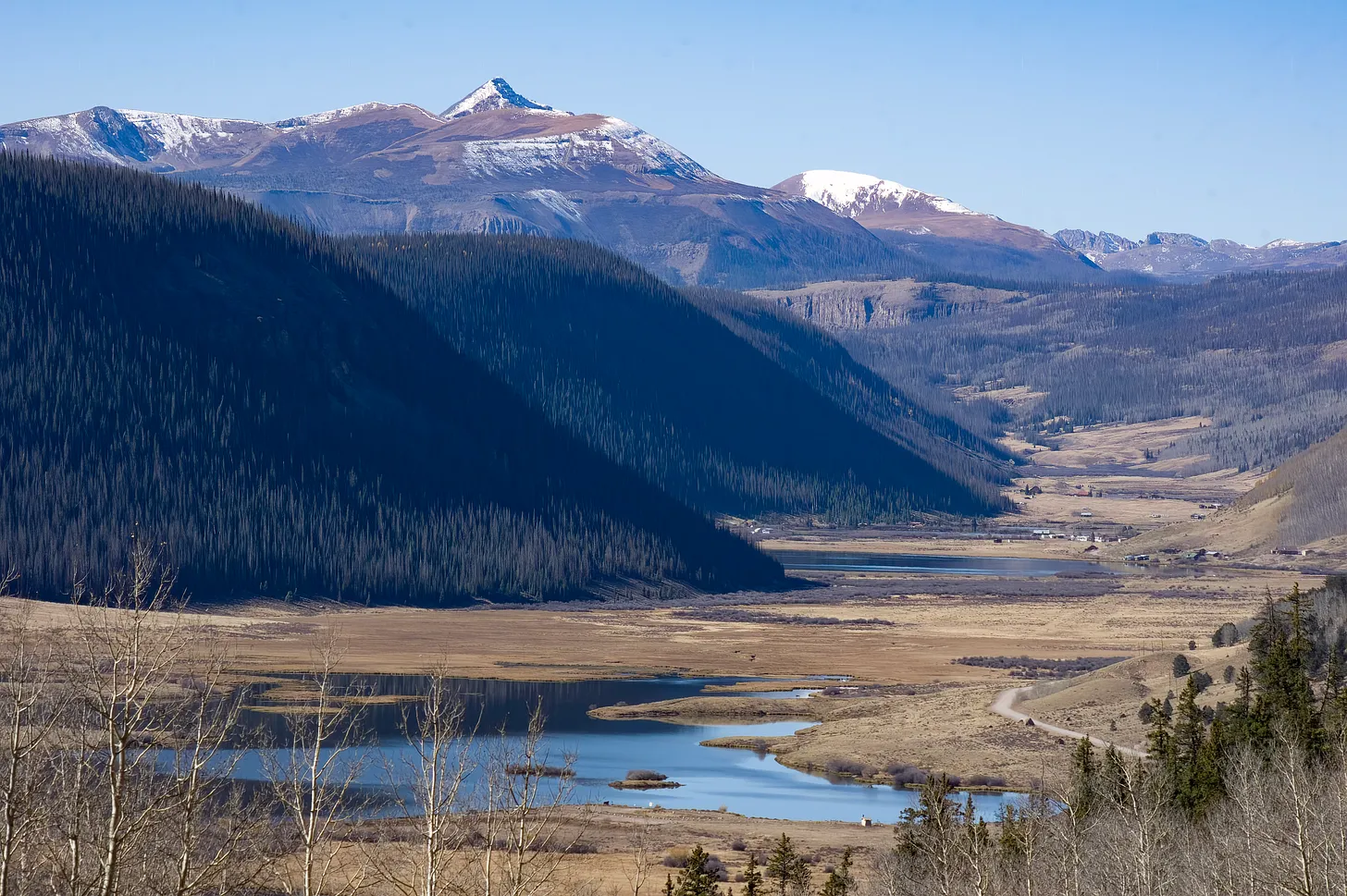 Holy Mother of God
The mountains are the San Juans. The Weminuche Wilderness is on the left. The high peak in the background is the Rio Grande Pyramid at 13, 821 feet. (Silverton is due west on the other side.) Five foot snowfalls here are common. The temperature drops to 30 below. I stood there stunned in reverence and wonder knowing I was looking at a giant womb where the living Earth gives birth to a river running almost 1,900 miles. It's absolutely perfect. A holy miracle. The mountains trap the snow, the water rolls down from the valleys, and it's been flowing for three million years. Read that again: THREE MILLION YEARS. We lived together near the rio almost 20 here in Taos. It's only a few miles away, at the bottom of an 800 foot deep gorge carved through ancient basalt in an active rift valley where impossible forces pull tectonic plates in different directions through a high desert landscape of volcanoes, lava flows, and sagebrush. The route I chose to get back home follows the Rio Grande the entire way…
When I started this trip, I had no idea. So look at what just happened. Eighteen months ago I lost the love of my life who lived with me for over 40 years. Losing Kathy broke my heart and tore me open top to bottom. It was massive, crushing, horrible. Who cares about the shoes. I don't know who or what I am but whatever made this place sent me here to ground me. Lose love, find a bigger love that she was part of.
DO YOU READ ME. DO YOU FUCKING HEAR ME.
WE ARE LOVED.