There's no way I can tell you when I came into possession of this thing, but perhaps my wife remembers.
It may have been in a box of family relics Granny gave me, who knows? But it's a typical Farr family artifact, because it's totally plebian: a kitchen fork… I know it belonged to her mother, and I think it belonged to hers, which dates it to the early 19th century, say 1810-1820. The amazing thing is, we use it all the time! We throw it in the sink to wash. It's my favorite kitchen tool, and I hunt for it in the drawer whenever I need a "stabber." I don't know when we absorbed it into our regular utensils, but we did and never looked back. Well, until now. Just look at this: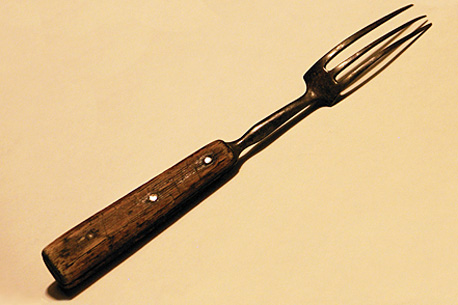 My grandmother's family is from West Virginia. Her father was a circuit rider, a preacher who rode his mule to a different Methodist service every Sunday. I used to have his saddle bags (long story). While I'm proud of that tradition, my mostly intuitive sense of him from the little I was told is that he was pretty much a joyless, tyrannical cheapskate, but then that went with his brand of religion: "shoutin' Methodists," they called them. None of these people ever had anything fancy or luxurious, and if they had, they'd have felt guilty! I conclude that this must be an ordinary object for the time, and if they passed it down from daughter to daughter, it was because they didn't want to have to buy another. Nothing special then, or is it?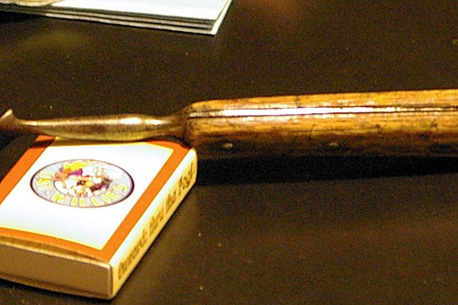 Look at the graceful design: the way the fork itself is fashioned, the riveted wooden handle that feels so good. It's a pleasure to hold and contemplate. Practical, yet resonates on many levels. This is truly a very fine fork, and someone made it. See the image above? The thin shank between the two halves of the handle is actually tapered, which tells me someone pounded it flat on an anvil. Though a one-of-a-kind, it's still utilitarian and couldn't be anything more, coming from my family. Put all of this together, and there's a stunning message…
"MY GOD, WE'RE USING A 200-YEAR-OLD FORK!" was the first thing that came to mind. The second was that no one I know can do this anymore. Make a fork, that is. (Could you?) The third was that we're so advanced and all, but nothing ordinary folks could buy today would ever be this good or last this long.
Considered in the context of what a throw-away society has meant for social justice and the Earth, this isn't just a fork, it's an indictment.