Maybe it was the albacore tuna from Cid's. My stomach swelled up so big with gas, I could hardly breathe. You can guess what happened in the bathroom at least twenty times. There is nothing like being choked by your own body, however, and that was much worse. I had to stay up most of last night, belching and farting and using up toilet paper. Until a few hours ago, all day today I had virtually nothing to eat. Breathing easily now though, and looking for food.
It's almost midnight as I write, and the front door is open—in just a few weeks, that won't be the case. The screen door fits poorly with a wide gap at the bottom. On Friday a chipmunk came in through the hole and ran right into the cat! Cue loud weird damn noises. She had his ass nailed in about fifteen seconds. My wife managed to run to the bathroom and slam the door shut in less time than that, so she missed me picking him up by the tail and tossing the trembling poor bastard out in the weeds.
Saturday was the reading. That went well enough. I got to say fuck a lot over a nice loud PA (see here, for example)—which pleased me no end—and met two of my fans. One was a lady who said my writing was "honest" and "fearless," and that made my day. By all means take the time to read all about it, but this part is nice (thank you, Bill Whaley):
"Each in their own way, John Farr, Kika Vargas, Richard Trujillo, Anne MacNaughton, and Fred Dillen portrayed the results of a serious writer at work, each of whom is working out an individual vision."
I'll take that, I will. It's amazing what can happen when I just get off my butt and join the real world. What else was there to do, anyway, except drive to Albuquerque two days before to see Lalo Alcaraz and Gustavo Arellano? If you don't know their work, please google 'em up, and be sure to watch Lalo's New York Times video interview.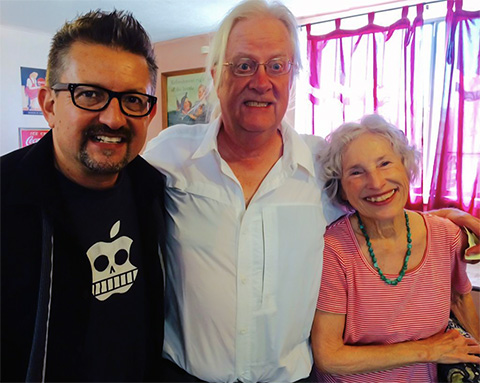 Along with their host from the National Hispanic Cultural Center, the two of them actually met us for breakfast at Barela's. I was like a starstruck kid—a real cartoonist!—but what a hoot. Just thinking about it makes me grin, and I can use some more of that for damned sure.