America made me take this picture. The America that was. It wanted to say something, possibly "Help!" or "Look, I'm still here!" This scene really grabbed me. I can't say why, but I'm usually stirred by darkness under the surface. Odebolt ("OH-dee-bolt") appears to be doing all right, though. Industrial agriculture and will power keep these towns alive.
There was a noisy gang of retired farmers having coffee in the mini-mart while they watched the trucks go rumbling by: feed trucks, cattle trucks, grain haulers, gravel trucks, one after the other. So much heavy equipment. Some of the old guys were heavy-weights too, with biceps the size of my thighs, heavy and tough from lifting bales or juggling hogs. If there'd been any trouble, no one would have had to call a cop.
All those truck drivers and coffee drinkers need places to sleep, of course. So do the people behind the counter, the teachers, the insurance salesmen, and the kid who installs your DSL modem. Since that has always been the case, march a couple blocks from the above and behold the lovely boulevard: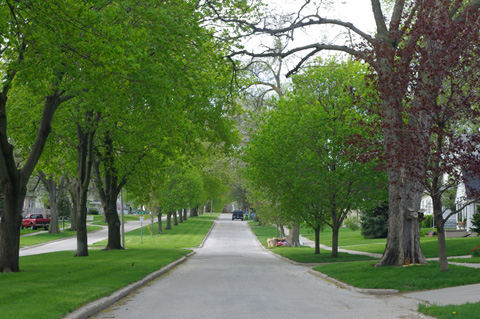 It just amazes me that people live their lives in quiet certainty like this. (Forever curbs, eternal grass…) The noisiest thing you'll ever hear, at least if you avoid the mini-mart, is two lawn mowers going at once, or maybe a tornado siren. As if I would really know! But it sure was peaceful when we pulled in after spending the night in Ida Grove.
A little too peaceful, maybe. Like chloroform from old brown dusty bottles in the dead doc's attic, or buried by your daddy in the backyard under green, green grass.