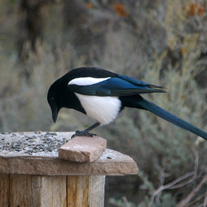 I just had a very close encounter with a big brown hawk. A couple of feet away would qualify, yes?
This happened less than a mile from home. I was at the top end of the road where the pavement ends. About two singlewides from my turn, I drove all at once into a screaming flock of magpies! [left] Dozens of them, wheeling and caterwauling all around me. This isn't normal, so I slowed to a crawl to see what was going on. The next thing I knew, a large hawk all but dropped out of the sky, flapping frantically to break its fall, right in front of my face. Its outstretched wings were easily the width of my windshield. If I hadn't jammed on the brakes immediately, I would have smashed it head-on. As it was, the bird and I caught ourselves at the last split second, so that we just barely touched before it flew off, but touch we did. Feathers pushed against the glass!
I was momentarily stunned and pulled off on the side of the road to check out the rest of the action. The hawk, which I now perceived to be exhausted, managed to make it to the top of a telephone pole about 50 yards away, while the magpies settled into the branches of an adjacent tree. I couldn't believe how many of them there were. They'd obviously been mobbing the poor hawk, something I've witnessed many times, but never anything like this where the raptor was so terribly outnumbered.
A big hawk is at a disadvantage against smaller birds in the air, although these were magpies and pretty big themselves. It does happen that raptors end up getting killed this way, but that's unusual. For the most part, mobbing birds will just harass the victim. This time I drove away worried for the hawk.
Closest I've ever been to a live one, bar none.
* * *
UPDATE: Oops, I'm wrong. Make that a live conscious one. In fact, the closest I've ever been to a live hawk was when I picked up a dazed merlin that hit our kitchen window in Maryland once. I carried it over to a stump and laid it down to see if it was dead or alive, keeping an eye out for the cats in the meantime. A couple of minutes later, it staggered to its feet and flew away.