It was a sharp, disgusting late winter day. Juan del Llano stared through the window at bare tree branches waving in the wind: heavy, dull clouds had eaten the mountaintops, leaving nothing for him. The next thing you know, it'll start snowing, he thought to himself, and of course it did.
For the next 20 minutes it snowed like the end of the world, a howling sideways barrage that fell into great swirling clumps where the wind broke over trees and houses. In 10 minutes the bare clay patio was covered in white. Pure as the driven snow, he grimaced, knowing it would soon melt into mud for tracking through the house, never mind how happy the tulips he hadn't watered yet would be.
The snow subsided. He opened the front door to check for damage. Not much, but the stones were slushy wet, the icy, humid air straight out of his past. Goddamn March! It had been a week of blows no one would understand, least of all himself, devoid of honor.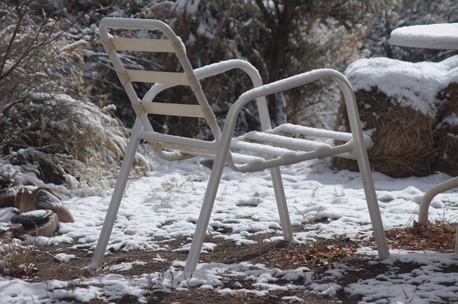 Surely there must be someone else to kick. He realized he'd have to walk out to the woodpile later in the slop and cursed his self-drawn fate: the mud, the debt, his belly fat. Whatever wouldn't let him die in peace he'd never known.
Returning to his desk, he spent the next two hours composing and recomposing a long and evil email message to an idiot of a client, the only one who'd ever paid him without bitching. Worthless dreck, he muttered inwardly. Restrictors of freedom. Placental scavengers. Ignorance incarnate! Slashing his own throat was how the game was played, yet somehow this made him feel better for a while. So good, in fact, that in the end he never hit the "Send" button.
The weasels chewing on his tender parts looked up briefly, panting through yellowed fangs, and then resumed their feasting (though with lessened appetite). Filthy geriatric ominvores, he groused. Maybe if he fed them scraps of recognition, they would curl up in the pockets of his hand-me-down soul, and he could buy a new one.
After all, he did like the way their little pink tongues trembled, steaming in the chill.