I will never again make fun of anyone who makes a big deal about a dying pet. Well, if you're the type to call in a taxidermist or have Poopsie freeze-dried, you're fair game. But everything else, I now understand. Boy, do I.
This is almost as big a deal as if a family member died, because that's what he was. For 15 years, it's been a constant stream of:
"Did you feed Hobbes yet?"
"Is Hobbes in?"
"Where's Hobbes?"
"C'mere, Hobbes!"
"Come look at Hobbes, he's so cute!"
"Good kitty!"
"HOBBES! NO!!!"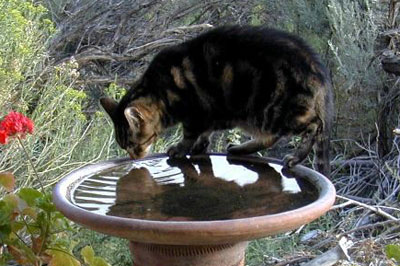 You get the picture. Not to be maudlin about it, it's just a fact that we were in this constant, ongoing relationship, and now it's suddenly over. We have another cat, by the way, but we came by her fairly recently, so she's a cat with a past we didn't share. The late Mr. Hobbes was with us since he was an infant castaway, and that has to make a difference.
Some people may read these words and think I'm weird, or say if we'd had kids, I might be more detached about about the cat. That's probably true, but Hobbes was NOT my child! He was simply Hobbes, the best cat I ever knew.
I feel so guilty now. I can't help it. It's not enough to say that he was suffering, and so on. Right now I feel I'll never forget walking away and leaving the little bastard there, stretched out warm and limp on that stainless steel table with a pool of piss expanding by his bony little butt. He threw up all over himself, too, before the second injection, and we had to wipe him off so he could die with dignity… as if…
The main thing is, the MAIN thing, is that it's very quiet now. Too quiet. I just can't believe the little fucker's gone.