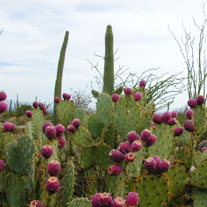 She's at it again, apparently.
I send my younger brother $500 a month from her account, a lifesaver for him, for looking in on her. It's a pittance, but I can't really send him any more, because she's already upset about my paying him at all: push her too far, and she might get it together to make things even worse.
Helen is 87 and a rolling mess o' trouble. My brother's not in the best of shape himself, wheezing for air with bad lungs. He had a cancerous chunk of kidney removed last year and just suffered through a dozen needle biopsies of his colon at the VA hospital. He obviously can't work in the usual sense of the word, but he certainly does work, bringing Helen the mail and newspaper from the old address (she's never changed it), fixing this and that, and checking in on her a couple of times a day from his own place a few blocks away. He buys the groceries and takes her places, or would, since it seems she doesn't want to leave the trailer any more. I think you get the picture.
For the last two weeks, she's been saying that "something's not the way it used to be in my body." This is my mother I'm talking about… Something's not the way it used to be in her body, it probably hurts, and my brother has tried every day to get her to go to urgent care at the hospital. She won't go, of course. Apparently she doesn't go to medical or dental appointments any more, deciding at the last minute that it's too much trouble to get into the car. In response to this latest episode, my brother got her a doctor's appointment, though whether she'll actually make it is an open question. I hope she does.
But today they must have had a fight. Helen knows just which buttons to push, even at her age, and sometimes I think that's the only thing that keeps her going. In the aftermath, my brother called to say he needed to vent, and vent he did. I can't believe the things still going down. A short way into the narrative, I could tell he was especially bothered about something, and out it came: "Mother said she wanted me to tell you not to send me so much money…" he said, the unspoken need for reassurance hanging in the air.
I told him no way in hell would I do that. I said a few more things, and we had a laugh. But thinking about it now, a few hours later, I just want to get drunk and cry.