We went to look at a house in San Cristobal yesterday. Just a peek-in-the-windows thing. Hearing the traffic go whistling past on the nearby highway killed the deal, but driving up that way again was notable. The mountain village was our first stop in New Mexico, you see. (For the lowdown on San Cristobal, Buffalo Lights will do the trick.)
"Village" probably evokes a cluster of houses around a post office, country store, or perhaps a church, with a road right down the middle. Not so here. In northern New Mexico a village is a widely-spaced scattering of homes along a narrow mountain valley with water, trees, and arable land. In the old days, at least, property lines were drawn perpendicular to the valley, so that every family had a slice of pasture and the creek or mother ditch. If there's anything resembling a center, it's usually a social one like the post office, where people share news, gossip, and catch up with their neighbors.
I heard so many stories in the San Cristobal Post Office. One of the best was simply having Ricky Medina tell us "Welcome to the valley!" after we'd rented our boxes in a space smaller than most living rooms. Another involved the sighting of a local priest away in Santa Fe, having lunch in a restaurant with a woman! My favorite, though, has got to be the one about the village drunk. You have to understand that this kind of thing is told in whispers—although with great delight. At any rate, the fellow was out wandering as he was wont to do, boracho as usual, when a mountain lion attacked him. I expressed great shock at this. "Oh no, he was fine. The leon only knocked him down and ran away, probably because he smelled so bad!"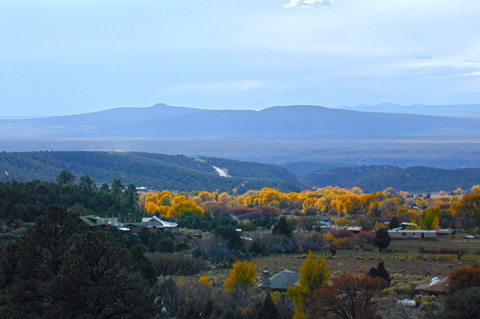 Nature has a wholly different quality up there once you leave the settlements and hike a little. I don't just mean the bear in the yard or the elk trumpeting in the fall. It's more like something you don't argue with. It's there and beautiful and it can kill you. (Beautifully, of course.) And the whole time, you're sensing something huge and sacred. It lights up your DNA. Genetic memory of the deepest kind awakens. We are unspeakably old, you know.
Once my wife and I took a short hike up the valley from our rented adobe cottage. We were walking through a meadow beside dense forest to our right when I spotted a fawn curled up in a nest of grass on the edge of the woods. We stood and stared in wonder from not ten feet away, yet the animal didn't move. Then I realized how large it was, though still quite young—good Lord, an elk! That meant six hundred pounds of momma elk was very close, so we skedaddled. On our way back down the valley, the fawn was gone. Another time I sat out back after dark on an almost-warmish summer night enjoying the stars. The house bordered directly on the national forest, and I sat there facing the trees. At some point I realized that anything at all could come walking out of the darkness, and I felt a fear like I had never known. It also made me feel more human somehow. Like I was of the Earth.
It wasn't easy in San Cristobal, though. We'd just left our old place in Maryland. I was so homesick and distraught, I'd wander off and sob at having blown up our old life. There's no feeling like that in the world—just remembering can rip the scars and make me bleed. And yet the things I learned from Nature hinted at much greater space and time…