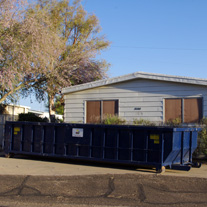 His wife took one look at it and said, "You're a screwball!"
The appellation from darkest Iowa in the '50s was a primal zinger, and he felt it. Why couldn't she have landed on "visionary," he pouted?—albeit in a manly way. It was one of the most manly things he'd ever done, in fact, renting the giant roll-off dumpster, even if it was the smallest one they had. Juan del Llano could hardly believe his eyes: the sucker was so…industrial, that was the word! Just the thought of having the beast under his command for the next few days made his testicles swell with pride.
He'd rented it the day before, maddened by fear of never completing the clean-out of the old lady's double-wide and having to stay in Arizona forever. No one could survive that, so something had to break, and did. The expense was ridiculous, true, but the estate would pay, and his share of that was only a fourth. With less than a week left to empty the trailer, the mere fact of the dumpster changed everything. Screwball, eh?
"Just look at that! I could put a car in there! No, TWO!"
"Three," she spat darkly.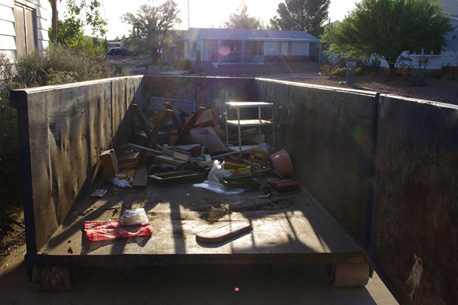 Oh, perfidy of truth. With Fiat 500s, perhaps. And then his thought processes shut down: faced with the looming maw of steel, a blind urge to FILL the emptiness consumed him completely. There was already a pile of trash under the carport, so that went first. Old boards, odd pieces of metal, vases and jars clattered into the bin. Unidentifiable plastic parts, an old toolbox, dead lamps, and magazines. It was 103 °F, but what did he care? The living room closet was next: in less than 10 minutes, he utterly killed it. Umbrellas! The old slide projector! A broken antique cuckoo clock! Vacuum cleaner parts! Soon he was pitching things over the side just to hear how they crashed.
He paused for a moment—beginner's mistake—and saw there was still room for their car, a large diesel tractor, and maybe a blimp. The cognition poisoned his mania, and suddenly he heard a voice:
"You're never going to live this down," she smirked.
WHAT?!? Oh, right. A prophet in his own land, yada-yada. But the sun was sinking slowly in the west, and it was time for tequila. The Cuervo Tradicional was almost an afterthought following three glasses of lemonade (103, remember), and he staggered outside again, unable to rest.
The dumpster's heavy steel sides were still too hot to touch. Must weigh 10,000 lbs empty, Juan thought to himself. By now he knew that filling it was impossible, but at least it was there. Whatever he couldn't pack or persuade the Salvation Army to take would go over the side and vanish forever. The sucking sound in the back of his brain was the past disappearing down a black hole, back into the Void, whence cometh all evil and joy. It wasn't a question of whether he'd ever finish, more like don't stand in the way.
The future needed fertilizing, anyway, and he was just the man for the job.
UPDATE, 5-18-2012: My God, it's almost full!