The mud in the road is drying. The wind blew all day today under a blue sky in full sun. That'll always do a number on the dirt, which is why your garden shrivels up so fast. But we can drive out now without splashing through the batter. It's been really bad for about three weeks. If only the ruts and holes would flatten out somehow.
This has been the worst year for mud I've experienced in fifteen years. I can tell you that even worse than the actual danger or difficulty is the oppressed state of mind it fosters. Even if you can get through, it just feels wrong to do that to your car. Like Taos is eating your stuff.
It's probably been over a month since I've walked. What with one thing or another, I haven't had the drive. That'll age a man faster than anything, I bet. Not the lack of exercise, but giving up partly, even for a while. Where I usually walk has been a bog. I could have gone other places to hike or left the house early while the mud was still frozen and tromped around just fine. Didn't, though. Facing that cratered two hundred yards between the house and slightly better dirt just sucks my gumption dry.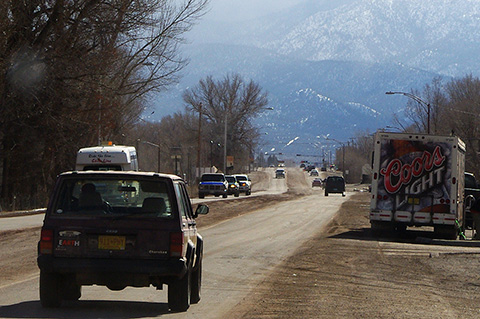 Driving through town is a dystopian slog across broken pavement, potholes, and clouds of brown dust from dried mud in the street. Shoals of whatever sand-and-salt concoction the snow plows spread stretch along the curbs. With all the debris on the roads, you have to be careful, because it's windshield cracking time. If anything, drivers seem even crazier, now that there's a little drying. People pull out from parking lots to careen across both lanes and the turning lane, all at once. Stop signs equal green lights. Most vehicles are filthy with mud and dust. Businesses along the street hire guys with leaf blowers to scatter even more dust off the sidewalk. A push-broom would work so much better. Knowing how to use one, I feel like someone with an ancient secret.
The sun is wonderful, though. For days now we've had temperatures running twenty degrees above average. It was over sixty yesterday. Just a few years back around this date, it dropped to twenty-six below! The new warmth is like a portal opening up to change and possibility. We've got to leave the old adobe. It's now or never or we'll die here in the dirt—that's one thing Taos teaches with a vengeance.
Teresa's painting sits there on the kitchen counter. Her spirit gives me hope. The past is dead, there's only Now. Don't plan so much, just take a ride. Johnny's on the job.