Who are these people? I found this in the vast horde of uncataloged photos I rescued from my late Aunt Mary's house in Maine. They look like long-ago relatives of mine—there must be some shared DNA—but I have no idea. Maybe my upstate New York kin? And look at that guy's hands!—are those farmer hands or what? What kind of a party is this? What in God's name is that woman in the background wearing on her face?!?
Right now there's a 4 ft high stack of boxes, plastic bins, and one old suitcase behind me where I'm sitting. That's what's left of the horde. You wouldn't believe how much I found. Freaking tons of stuff: Maryland in the '30s, WWII in the South Pacific, people I don't know, all kinds of family shots I'd never seen because someone other than my father took the picture, etc. My aunt was quite the baker and must have invited every nonagenarian in East Vassalboro over to celebrate their birthdays. Naturally she took photos and ordered prints for everyone. (New ones, not like the above.) There were so many duplicates that I eventually just gave up and had to toss a million photos of old ladies eating pies!

There was more than just old photos. When Aunt Mary was a U.S. Army nurse in Australia during WWII, she picked up lots of lots of souvenirs, or tried to; I found an old letter apologizing for the lack of any Aussie tourist trinkets other than opals and kangaroo skins. So guess what I'm looking at right now? KANGAROO SKINS, can you believe it? Here I am at 7,000 ft in Taos, NM in 2013, five days before my birthday, with a couple of wallaby pelts as old as I am. Ack! There's also a boomerang, I swear to God, with kookaburras, no less. See?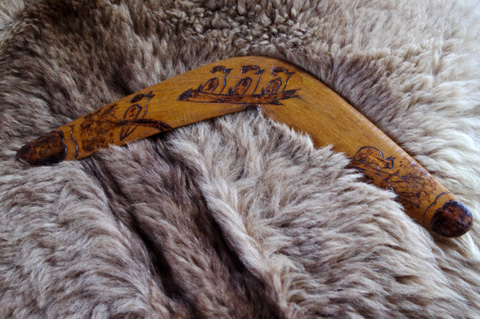 That's a little one, about 14 inches across. When I was 16, I found a couple of bigger ones in my grandmother's attic. My father and I went across the road to a high school athletic field to try them out. (Of course he knew just how to throw the damned things.) Pretty cool, though! They do "come back" if you haven't whacked your rabbit with it, but it's this vicious whirling instrument of death you have to duck. No doubt there are drunken Aussie daredevils or sly natives who snatch them out of the air, but don't try this at home.