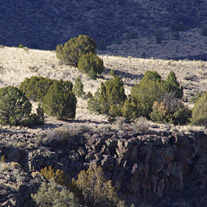 The cat was freaking wild, high on junco brains or possibly my tugging on her belly fur. She was purring like a lion with a hot gazelle, and I knew she'd bite me next time.
"Okay, enough, I'm done!" I promised. Satisfied, she dropped to the floor with a thud, gave a little growl, and flopped down beside the wood stove. It was cranking pretty hard, and man, did I know why.
Today was a "walking day," you see. Every other day, I hike four miles on a rocky desert trail. It's excellent exercise, and I don't have to think. On a bike, I'd be shifting and braking and keeping my balance, but all I do on foot is walk as fast as I can and let my body follow the trail. I'm pretty addicted to the exertion and excitement, so the fact that it was 30 °F colder than just two days ago didn't put me off. Maybe it should have, but then I'm always up for melodrama. Naturally, I got some.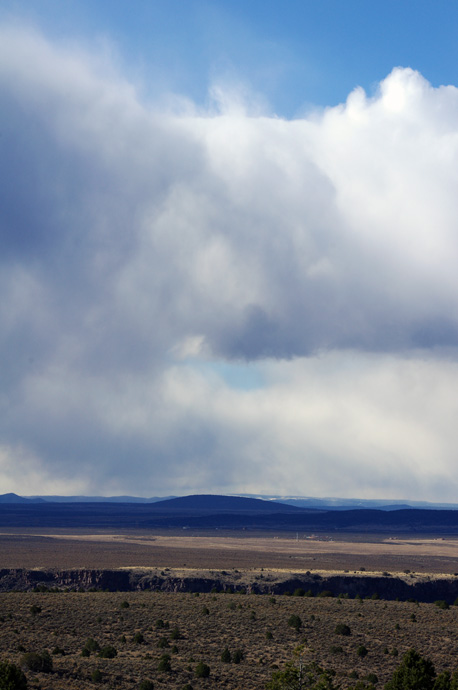 Out on the mesa, the temperature was 28 °F with a stiff wind blowing. Right away the sun went behind a cloud, and I was in trouble, staggering into the blast with frozen hands and ears. My eyes were watering so much I couldn't see, and I almost turned around. But all it took was 10 minutes of hell to warm me up enough to go a little farther. The trail dipped down out of the wind, the sun came out, and I walked along with extended arms to let my black gloves soak up the rays. This worked amazingly well, and I warmed up enough to function the rest of the way out and back. A simply stunning day, though, despite the chill. The air was so clear, it seemed I could count trees miles away. The vistas are so extraordinary in this place.
Getting smacked around so hard by cold and wind in these surroundings wipes the brain some—if you're like me, that's good. At any rate, when I came home late this afternoon, all beat-up and accomplished, there was something happening with my wife. Fearless and direct, a little dangerous. Happy and impulsive. The little spikey thing with the hair. How do they do that? It was like a whole new movie without going anywhere. After supper—pear pancakes that I made myself—she lingered in a doorway long enough for me to make a clumsy husband move. I am a stupid man, but sometimes mercy finds me.
It's later now. The wind is blowing so hard, I can hear it—unusual inside these thick adobe walls. As I write this just after midnight, it's 10 degrees outside and headed down to three!
The cat can lie there all she wants. I shall have a long, hot bath.