The other day I realized with a thud how few years I supposedly have left, actuarially and biologically speaking. At least there was a "thud" at first, but then I felt a big weight fall away. It may have been the past.
In terms of my personal tale and moving to New Mexico in '99, this means I'm finally inside my skin. "My God, what have I done?" has left the building. The guilt and self-abuse that made me small is gone. There's a wild, expectant energy. A Saturday morning of the soul.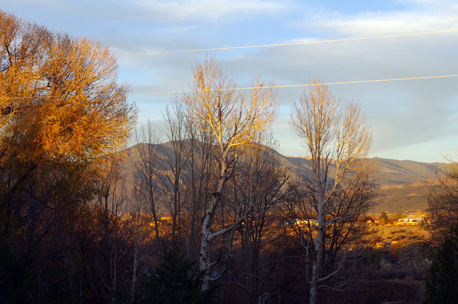 Oh, there was a little help. Besides the matter of my empty corpse—death is where it's at, I'm telling you—I spent a morning staring at the truth about the old home town, and the little cargo cult thing in my brain burned down. That movie set of memories with no McMansions in the corn fields and all our old friends tan and fit. Green grass, lust, and simple country folk. (I'm in there, too, of course, all fresh and young and full of great potential.) A post-hippie paradise trapped in amber like a pebble in my heart, ouch-ouch-ouch. But what's the use of such a thing? For all the transformations, I've often been a fearful, stubborn man. No wonder we haven't had more fun or felt more crackle from my awesome talent! As if feeling good and making a success of who and where I am were some kind of betrayal.
But that's not happening these days. Instead, I feel like I got away with something. You normal people must be shaking your heads, but this is fairly huge for me: always on the lookout for a cozy gig, of course, but all at once, I'm just not torn. No voluntary drawing and quartering. No leaving my entrails stretched across the landscape. Mostly, it feels so good to not be "bad." (Try to remember that when you reach behind the seat to swat your kids!)
Finally, long-time readers of this blog know that I've frequently been obsessed with what is "home." Understandable for an Air Force brat, I think. With so many places to remember and choose from, how does one proceed? I was on the right track a couple of years ago when I left my wife a note that said something like, "Wherever you and I are together is 'home' to me." She kept it on her dresser for months and months. That's still true, but now I also think that "home" may be the pot I'm dumped back into when I die. Eek. Or whoa!—I'm not sure which.
At any rate, the thing is settled, sort of. There's 6 Mbps worth of bandwidth in the old adobe, the woodpile is high, and winter's coming on. Let's see what I can gin up next, and thanks for stopping by.