Oh no, those chairs again!
This image below shows what it looked like in the old adobe a number of years ago when my wife was visiting for Christmas from Dubuque. It's hard to say just when, although I'll bet she knows. But damn, those chairs! They came from a college back in Maryland. I loved those chairs: you could sit in one for hours. We brought them all the way out here and then got rid of them in some kind of fit.
I think this was a case of my not speaking up, because I thought my wife was doing something healthy by clearing out artifacts from the past, and I was all for that. I also thought we were selling them, but in the end we simply gave them away. Dang. Some things make you feel good for a reason and you should celebrate. These got lost in my confusion. I don't know which is more poignant, the missing beauty or my self-denying state of mind.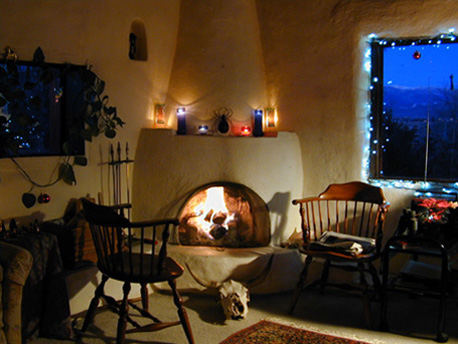 At any rate, this is from my early days in the charming rented hovel on the hillside. No curtains on the windows, Lord! I can hardly imagine that today. The heat loss must have been tremendous. We don't use that fireplace any more, either. It was like camping in the living room, primitive and smoky. The house is warmer with the chimney plugged, but I do miss an open fire.
This afternoon we had a fine visit with some older friends who left the hologram years ago—no hipster wannabes, but the genuine article. They live in a quirky, hand-made house beside a large pond in the shadow of a mountain, a place of great natural beauty and abundance. (I've never seen so many birds.) Make no mistake, though: if you knew them, you would absolutely call this living on the edge. Their situation is often quite precarious, and yet they mostly thrive. They grow a considerable amount of their own food and draw spiritual sustenance from their surroundings. They have a magic dog.
For some reason I mentioned a survivalist website I visited once that spoke of "doomsteads"—what I might call a bail-out house, a self-sufficient hideaway in which to weather the approaching storm, assuming one shows up. I had to explain what "doomstead" meant, of course. My buddy laughed and said, "Jesus, I've lived in doomsteads my entire life!"
Taos, ladies and gentlemen. Even if you move here, most of you won't see it. I just got lucky for an afternoon.
Keep warm, stay safe, sleep well.
Merry Christmas!