Sobbing in the hotel bathroom? This isn't how it's supposed to be. She came out dry-eyed and composed, but I knew I'd crossed the line. There is nothing like this feeling. Can one die of sadness? I could tell she almost had, and that I was next in line.
Lying together in the darkness. "This is the worst day of my life," she said. More shocked than sorry at first, the man-child didn't understand.
"My worst day was when you left to move to Dubuque," I answered—getting in the last word—but the thing was false, contrived, unclean. What was this, some kind of contest?!? There was no comparison at all. (And her moving didn't constitute abandonment. I cried for days back then, but that's not what it was.) Still not grasping what was right in front of me, I lay awake a long time and decided I would live, regardless, no matter what transpired next.
Just then something like a window opened deep inside:
Oh Jesus God. Oh no. Oh great fucking holy hell. I COULD FEEL WHAT SHE WAS FEELING, at least as much as I could stand. It was unbearably sad. She carried the weight of all the hurt I'd dished out for decades. Everything she'd said to me for years was true and oh so simple. As I lay there in the dark, I saw the whole of my irrational betrayal. Years of criticizing and correction. The gift of sarcasm turned perverse and used to wound. Emotional abuse. The constant chipping away of self-esteem. A million tiny digs that added up because I never stopped!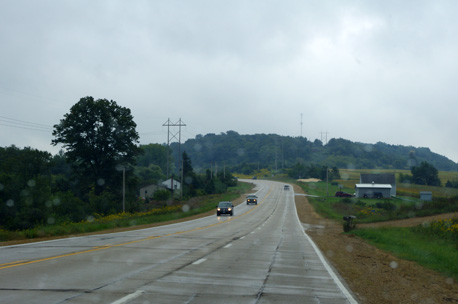 That's what you women get for marrying us momma's boys. We wouldn't be that way if they'd been good to us. We think women are all out to hold us back. Being hard and absolute is the only way to make sure of your loyalty. Being right about everything is an unconscious manly duty. That you would love us unconditionally from the get-go is inconceivable. You must submit to all our fears and make us whole—especially with sex—or we will strike out with a vengeance. Sometimes it's even physical. Not in my case, because I'm lucky. I have the cleverness, the dropping of the killing insult. The only reason I'm still alive is that I've never used this on a man who might have beat the crap right out of me. More luck, of course. It almost happened many times.
She'd been right all along in matters of the heart. Thank God for what little charm I did possess, because I'd treated her like dirt. Exactly like my alcoholic father, too, no empathy at all. Ironically, this revelation eased the pain enough for me to fall asleep. She'd done nothing to me. Whatever else I had to deal with, she wasn't it. All I had to do for her was be a man.
I told her of these insights in the morning, calmly. She listened quietly and said, "We'll see."
The rest of the day was utterly different, however. Without a bridle, she was free, and so was I. The family visit that followed was a thousand times better than ever before. The cousins' reunion we'd come for was a blessing, though I knew almost no one. People liked me, and I liked them. "Are you still a transformed person?" she asked me afterwards before going to bed. It was something of a miracle, all right. With just one stumble under stress, I was almost sane for once and hardly knew the feeling.
By pre-arrangement, she stayed to fly back later. On the long drive home, I had ample time to meditate upon my many sins, if we can call them that, for I felt no guilt and needed no forgiveness: the way it was, was the way it was. But as I drove along, the "window" opened up again from time to time. A song or sight would set this off, leaving me in ruins.
Okay, I'd manifested everything I never thought I was.
Okay, I'd treated her the same way I'd treated myself for my whole life!
Okay, okay…
But now I knew why I was alive and breathing on God's green earth. If I could feel true compassion—not guilt—for a single person I had wronged, anyone, just once, especially any brave enough to stand real close, I'd beat the odds and die a happy man.
That's all that Creation requires of me. It's what I'm here to learn, why all the shit was dumped on me.
"We'll see," she said.
Amen!