I was a piece of work. So much baggage. But all she felt when she laid eyes on me so many years ago was love. "From the very first, I knew," she said, and repeated it every time she tried to lift me up. I used to get so depressed that she would cry. "You have so many gifts," she'd say, "I love you, and I always knew…"
---
It was in the spring of '76 or '77. I'd left Austin a year or so before in my Saab 96 V-4 pulling a homemade camping trailer I'd bought from a redneck deer hunter and headed north to Chestertown, Maryland, because my grandmother's house was available for a time while she was off in Maine. Lady the Wonder Dog was with me. The little trailer had room for me to sleep and everything I owned in the world, which wasn't much. An oxyacetylene welding outfit minus the tanks, a few metal sculptures (a moth, a mosquito, and a bat), some books and clothes, a 12-string electric guitar, a Heathkit amp, a bike—certainly no computer gear. I didn't even have a radio. The back of the thing opened up and made a little kitchen with a Coleman camp stove. I could pull off the road, make instant coffee and a sandwich, and survive. It wasn't all that hard, except for being terrified.
I had two university degrees and about a thousand bucks. The idea was to find a place to live and be an artist. My Uncle Bob the doctor met me at Granny's house and gave me a key. He checked up on me every now and then to make sure I didn't steal anything, but I was cool with that because I thought he liked me. That first month I spent there was kind of like being dead. My clearest memory is of a sinus infection that spread to my ears so I couldn't hear a thing. That night I thought there was someone shouting outside and walked around the place with a flashlight in the fog, a good a metaphor as any for the time. I didn't know anyone in town (population, 2,500), got sick a lot, flung the Ching, and wrote sad songs about a woman I'd left behind. God must love at least a few young stupid men or else he'd let the fates eviscerate us. Perhaps the tiny spark of Jesus makes him sentimental. I even had some leather sandals.
Before I ran away from Texas, there were fantasies of Maine. I'd even corresponded with the owner of a farm in northern Aroostook County who was looking for a house sitter. He assured me it was gorgeous and that there were moose and eagles, but the snow was very deep and I would need to gut it out till spring. I sat with this a while until the ember died. It might have been the wolves.
Nonetheless my Aunt Mary lived there, much farther south down by Augusta, hosting her mother for late spring and early summer in a 200-year-old barely restored Cape Cod on 35 acres in the woods. With nothing happening in Chestertown, I thought this might be a clever base for selling metal insects at a string of coastal art shows and resolved to try. My parents were headed there as well, my father having just retired from the FAA. He and my mother had blown up their Oklahoma City lives and hit the road with a pickup truck and knock-off Airstream. All the old man cared about was drinking a glass of vodka at 5:00 or 6:00 a.m., riding his bike for an hour, coming back for coffee, more vodka, unfiltered cigarettes, and bacon before fidgeting all day while my mother read Family Circle in the trailer.
I wasn't up there very long. A purer hell than both my parents, my father's sister and their mother, together with my uncle Tom by marriage—a retired merchant marine machinist from Brooklyn who thought I should be welding farm equipment—could hardly be imagined. It was drippy wet along the coast, all the art show ladies cared about were fishing boats and lobsters, and I freaked out but good. Granny's house in Maryland was still available and I decamped. Besides, there was something about Chestertown that appealed to me. It was peaceful, there was water. We used to visit Granny in my childhood, Uncle Bob had been a doctor there forever, and I felt it was my birthright in a way. Who knew what I would find?

I spent the rest of my summer in Granny's house. After she returned from Maine, she let me use the bedroom where I'd slept when I was six. It was actually a special time. I spent long hours with my grandmother, listening to her stories. Sometimes I'd find an artifact in the attic and ask her what it was, and that would set her off. She liked my metal insects and the bunny rabbit planters I had added and let me do my welding in the garage. There were always cookies and pies in the cupboard. She went to bed early, took her hearing aids out, and couldn't hear a thing. My uncle came by every day the way he did when she was there, and everything was hunky-dory.
After I'd been back a week, I made inquiries about rentals, met a couple folks, and got adopted by a tribe. Among them was a small band eking out a living as artisans and handicrafters. This was a time when you could slice leather into strips and pretend you had it made by selling belts and wallets. One of them had set up a quiet little gallery and gift shop called "The Workbench" in an old colonial building downtown. I became a regular, trading time minding the store in lieu of a commission.
Time passed. I had numerous adventures, met all the local characters, and went to Arizona over Christmas. My parents had by that time migrated down to Tucson for the winter, where my mother declared her days of vagabonding were at an end and they must put down roots. Poor Dad. I picked up my sister Teresa in Austin along the way. This was useful because when Christmas morning exploded into screaming threats of violence, the two of us drove off to sit on a cliff atop Mt. Lemmon, smoking dope and watching buzzards until sunset. On the way back to Austin, Teresa insisted on picking up the perfect tumbleweed along I-10 and stuffed it into the back seat of my Saab. Don't ever do this, obviously. Have you ever touched a tumbleweed? Driving home through Tennessee, I was sideswiped by a blizzard, all the bad motels were full, and I roared back to Maryland without a nap. Tiny spark of Jesus, don't forget.
A few months later it was spring and lilacs were in bloom. I was on duty at the Workbench, the door was open to the scented breeze, there hadn't been a customer all day. I stretched out on a nice long wooden bench, believe it or not, and closed my eyes…
"Oh! Excuse me, I'm so sorry!"
[Huh, uh what…] "Oh no, it's my fault! I was lying down and fell asleep… Is there something I can help you with?"
First sighting.
She took notice, I did not!
[To be continued shortly]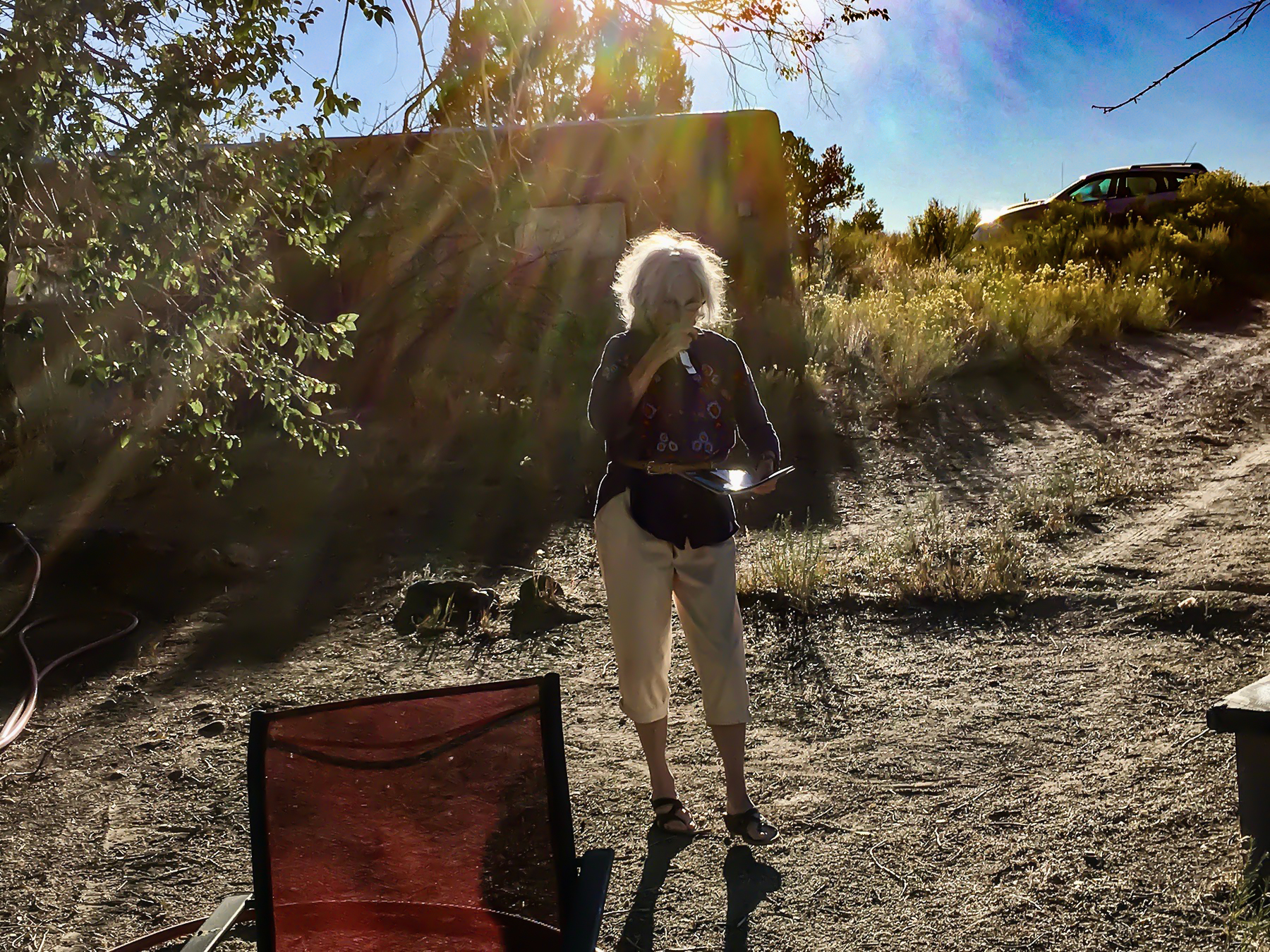 October, 2020 in Llano Quemado (Ranchos de Taos, NM)