Behold another shot from the epic Super Bowl afternoon at the Orilla Verde area of the new Rio Grande del Norte National Monument! Down along the river, in other words, which is flowing strong and clear right now. It's amazing that money sometimes does get spent for something this important, and I think the whole damn country should be proud. They probably don't know about it, though.
These are obviously bighorn sheep. We were heading back home when my wife asked, "What are all those animals up there?"
My God, twenty-one of them! The most and only ones I'd ever seen before were two. (Search for "bighorn" in the box below for several treats.) I took picture after picture—we were stopped right in the road—but they were chowing down, so mostly what I got were bighorn butts until that fellow turned around.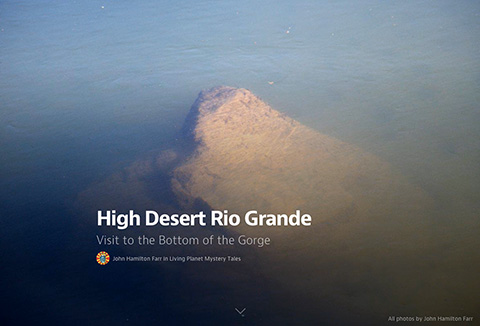 Earlier today I uploaded a similar photo to Medium as part of a new photo-essay called "High Desert Rio Grande" (see above) that covers much of the ground as my last few posts, but packaged in a different way. There are also photos that I haven't published here yet, like that one of an underwater boulder in the sun, but it'll end up here soon enough.
Have a look! I think you'll like it if you're reading this.