This is the best I could do with a 300mm telephoto lens, but there they are, having a fine time in the Valle Grande of the Valles Caldera. There's a single immature male in this photo. (A larger one was lost in the cropping.)
You don't have to drive to the Caldera to see elk in New Mexico, obviously. We've seen plenty of them near Taos. They're all over the place in the mountains. Sometimes they stand in the roadway after dark enjoying the warm pavement. This makes driving at night or in the evening especially exciting. Those things are big, in case you hadn't noticed—bulls stand five feet at the shoulder and weigh over 700 pounds! A few years ago we nearly collided with a small group of elk crossing the highway just over Flechado Pass. I barely got the car stopped in time but did have my DSLR ready and caught the last of them!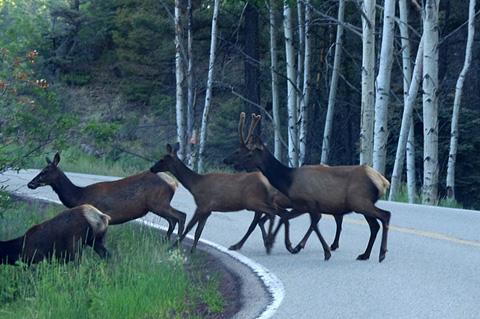 To this day my wife shudders at the thought of taking that road after dark. We're about to do it again though, with me driving of course, to hear Chick Corea play in Angel Fire. He's even older than I am. I don't know how much more excitement I can stand. Go, man! Hell, if that doesn't work, we'll take away his glasses and make him drive.