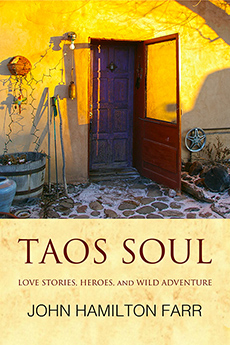 "It was Friday afternoon, and the post office was full of Indians. Maybe it was like that every Friday, I didn't know. But there they were, old women mostly, and many of them seemed not to have seen each other since the last time they checked their mail. I stood in line and waited forever. The holdup was an Anglo family of four getting passport photos and applications. (The Indians all had P.O. boxes and didn't need to wait.) In front of me was a tall white man with short hair and a jeweled stud in his left earlobe, wearing a long black leather overcoat. The Pueblo women were five feet tall at most and moved around like a slow river. I felt like I was in another time."
That's just the opening paragraph. Part memoir, nature writing, black comedy, confession, and journal of spiritual discovery, TAOS SOUL: Love Stories, Heroes, and Wild Adventure ($9.99) is a collection of 62 true stories about a passionate struggle to survive amidst extremes of weather, spirit, and the intense tri-cultural energy of northern New Mexico. The thematically arranged chapters cover the period from 2005 to 2010, beginning six years after my wife and I moved from the quiet Eastern Shore of Maryland to the terrible beauty of Taos.
What's it like to live in an old adobe house at 7,000 feet with only a wood stove for heat and coyotes howling just outside the door? Have you ever hiked or driven where no one would find you if disaster struck? What happens to your marriage when your wife moves 1,200 miles away? And what happens in your heart, living on the edge where all of this is true?
About this Book
Chronologically, this book covers the years 2005 to 2010 and follows BUFFALO LIGHTS. All content selected or repurposed from online and print writings by John Hamilton Farr. Original sources include GRACK! columns at JHFarr.com, FarrFeed, and columns for Horse Fly, a monthly Taos newspaper. $9.99. About 50K words. ASIN B003UV8NK0 (Kindle), ISBN: 978-0-9830838-1-8 (Kindle), ISBN: 978-0-9830838-0-1 (Epub). Available at these digital stores.
Sections and Chapter Titles:
Love Stories:

Motherly Love, Island, Grounding by Default, Tunnel, River of Soul, Killing the First Elk, Poor Old Hobbes, Busted Down in Babylon, The Devil on Kinney Road, All-America Bloodline Blues, Three Centimeters, Run to Ground, Parts I-IV, Barest Bones, Vivir Otra Vez, Twenty-Five Years, Scenes from Deep Marriage, Lying Eyes, Something Happened to Me

Heroes:

Compulsion, Jesus Water-skis in Waco, Joe Sent Me, Windshield, Nine-Year Itch, Natural Born Killer, Yells-At-Nothing, The Ashley Gets a Knob, Not Coming Home for Supper, My Amazing Thursday, Monday Night Manuel, The Tao of Plumbing, Woodpile Kensho, Angel Stampede, Saved by Salvage, or An Ode to Junk, Grasshoppers of Llano Quemado, Dimensional Shift, Bleeding Heart, Home Canyon Security, Child of God

Wild Adventure:

Message for the Fourth, Daring Death in Dixon, No Bugs in New Mexico, Thirty-Year Gale, Journey to the Land of Giants, Part I & II, Taos for Dummies, Spiders in the Fruit Bowl, Eating the God, The Spring, Invitation, Dowser Man, Life in Mudtime, God Game, Dead Landlord Jokes, They'll Never Take Me Alive, Crucible, Johnny and the Horned Toads, Adobe Winter Lockdown, Swimming to Arcturus, Piñon Lift
About the Author
John Hamilton Farr is the author of Buffalo Lights, Taos Soul, The Helen Chronicles, and dozens of columns for Horse Fly, a monthly Taos newspaper. He has published online since 1996 and currently resides in Taos, New Mexico.