"What's she doing up there?"
That's 11 and a half pounds of Callie the Wonder Cat, too. She was up in the highest cubby of the rustic [cough] bathroom sink shelving just as fine as you please. Up where it's so dusty and scary, we never put anything there. Or had we? A forgotten extension cord, too many spiders. Anyway, there she sure was, and I soon found out why.
All of a sudden, there was a banging and a whomping at the other window. Like when a bird hits it, but over and over. The cat whirled around and I did, too, just in time to see the avian lunatic below —a rufous-sided towhee—doing just that: BANG flutter-flutter BANG flutter-flutter BANG flutter-flutter. The bird-maddened cat was ready to throw herself against the glass. I raised my camera, and zip, he was gone. Not for long, though. I took this photo when he came back again: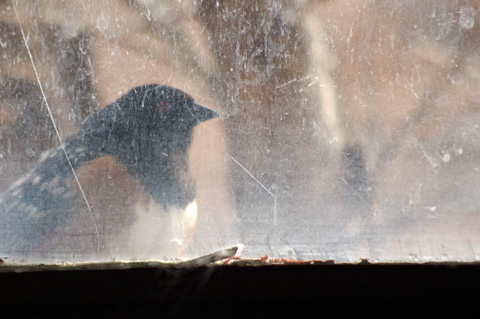 I don't know which one of them gave up first. The towhee might have battered himself silly and staggered off early. The cat could have stayed up there longer, because that's what they do. About the time it got dark, she wandered out into the living room and didn't let on. Nobody ever tells me anything around here, and that's the way they like it. All this took place in a fine April snowstorm. Nothing to drive us warm-bloodeds more wacko than snow on the tulips and a hard freeze tonight.