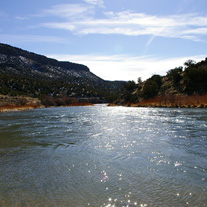 I could say "Natives," but that doesn't quite capture it. It's more about spirituality, and respect for same, which simply doesn't exist in most of the places I've lived.
Last Friday night there was a very sad accident on Cerrillos Road in Santa Fe. At around 9:00 p.m., a 34-year-old driver (possibly drunk and carrying a suspended license) crashed at what must have been very high speed into the back of a car carrying four members of a Navajo family from Naschitti, north of Gallup. The impact was so violent that three cars in front of the vehicle that was struck were also involved. Killed in the crash were two sisters, 17 and 20 years old, who had just come from playing in a Class AAA girls state basketball tournament. Their parents are both in serious but stable condition in the hospital.
But this is what happened yesterday: Santa Fe police blocked off the southbound lanes of busy Cerrillos Road at 3:30 p.m. for a whole hour, so that a 66-year-old Navajo medicine man from the family's home community could conduct a healing ceremony, asking for "physical and spiritual healing of those who were injured, those who helped the injured, and those who were left behind to grieve." There were 50 people present from Naschitti and 20 cars parked right in the middle of the road. The mayor of Santa Fe was present, and the police chaplain assisted in the service.
From this morning's Santa Fe New Mexican:
Nez prayed in Navajo and used an eagle feather dipped in water to bless members of the gathering… The medicine man, with the gathering following him as a cold rain began to fall, then proceeded to the exact spots on Cerrillos Road where the two sisters were struck, and more prayers and blessings were offered.

Friends and relatives placed roses in the median dirt, and planted other flowers and laid balloons along the west side of Cerrillos in remembrance of the sister.
There are five surviving siblings, all of whom had played for the team at one time or another. Another sister on the current team had injured her ankle and didn't go to the game!
It's not often that an article in the morning paper makes me cry, but this one did.