That's how people spoke of it in Maryland, "the water." As in, "I like the scenery out West, but I'd miss the water." Yeah.
We had a house just 1.5 miles from the Chesapeake Bay, but getting to it somehow became a monumental aggravation: I had to rig the sail, my trailer was too funky, the weather was too humid, I really ought to mow the grass, whatever. I wasn't alone in this, either. People smarter than me figured how to buy houses that were on the water, so you only had to choose your flip-flops, and to hell with working on the weekend. This made crappy real estate so expensive, the only happy campers were the brokers.
Our postman told me once, all serious and mournful, "Guys like you and me will never have a place on the water," as the saying goes… What HERESY! I wanted to bust him in the head and vowed right then and there I had to get away: not from the agua, but the mindset. Quite the caste system they had going on the Eastern Shore, "manor houses" and the lot. I used to walk around with steam coming out of my ears because nobody minded.*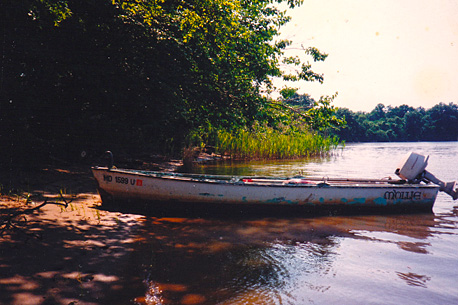 What is it about "the water"? When I was growing up, I'd run to any pond or stream in search of tadpoles, water bugs, and fishes. There was something magical about the hunt, you know? The symbolism of such places, the fecundity and all, still kills me when it hits. But now that I'm old, a pond won't really do, nor would a lake. It needs to be a tidal river or a coastline, water that connects to all the rest. What that represents to me is freedom and mobility (youth?): I never took my wooden boat or sailing kayak out beyond the mouth of any river in those parts, but in the back of my mind was the thought that yes, I could, perhaps. The thing was possible. You could go all the way down the Bay and sail out into the ocean, and from there around the world.
Fortunately, New Mexico is in some ways much like the sea. It's truly vast, for one thing. There's palpable relief just cruising down a road with no one else around, at least for a little while—no one to crowd you or tell you what to do: freedom! And then you start to get a little scared… Kind of like sailing, actually, except the open water is more desolate, and you can't stop to take a piss, or throw up. (There's an art to being out of sight of land that this boy never learned.) You've surely heard about people being lost at sea and never found again? That happens here, too. People vanish into caves and lava tubes, or drive out in the boonies and get buried in the snow. Worse than that, they move to Taos and name their children after trees!
Disappearing is a cottage industry in these parts. Maybe I don't miss the water so much, after all.
* That part of rural MD 30 years ago was also the only place I've ever had a black man stand aside for me because of race. (It wouldn't happen now!) And see this story about the Freedom Riders back in '62. A lot of people have forgotten this or never knew it in the first place.